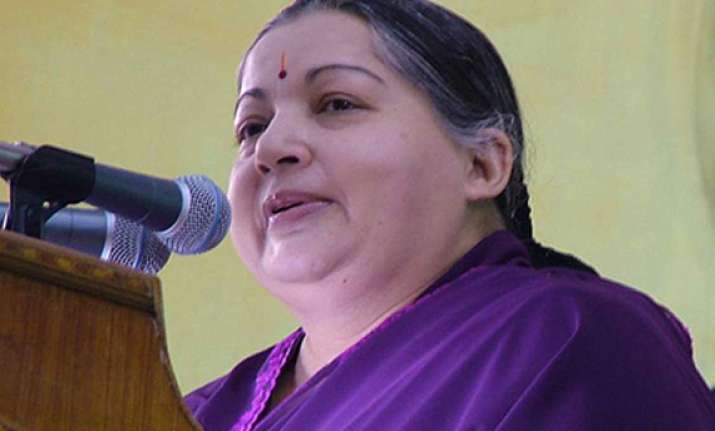 Chennai, Jun 17: The ruling AIDMK today acceded the plea of CPI for support to its candidate D Raja in the June 27 biennial elections to six Rajya Sabha seats and announced withdrawal of one of its nominee from the contest.
The change of heart by Jayalalithaa to accommodate CPI came after Raja called on her this morning and sought support.
Chief Minister and AIADMK supremo J Jayalalithaa in a statement released to the press here announced that her party would extend support to the candidature of Raja.
CPI National Secretary D Raja today filed his nomination papers for the June 27 biennial elections to six Rajya Sabha seats from Tamil Nadu.
Earlier in the day, she said that AIADMK'S Thangamuthu, who was fielded as fifth candidate would withdraw his nomination.
Jayalalithaa had, in the past, expressed her party's inability to help CPI and nominated five of her party candidates for the election.
Today is the last day for filing of nomination papers and scrutiny will take place tomorrow.The last date for withdrawal of candidature from contest is June 20.
DMK has entered the poll fray by fielding party supremo M Karunanidhi daughter Kanimozhi, who is bidding for a second term.
AIADMK with 150 members strength in the 234-member state Assembly is expected to win four seats. Each winning candidate has to muster 34 first preference votes for victory.
Principal opposition party DMDK also entered the fray as party treasurer A R Elangovan filed his nominations, taking the total number of nominations filed so far to eight.
The five candidates from AIADMK and Kanimozhi from DMK have already filed their nominations.
Though DMDK has 29 seats in the 234-member Tamil Nadu Assembly, seven have turned rebels and expressed their loyalty to Jayalalithaa, saying they want to ensure development of their constituencies.