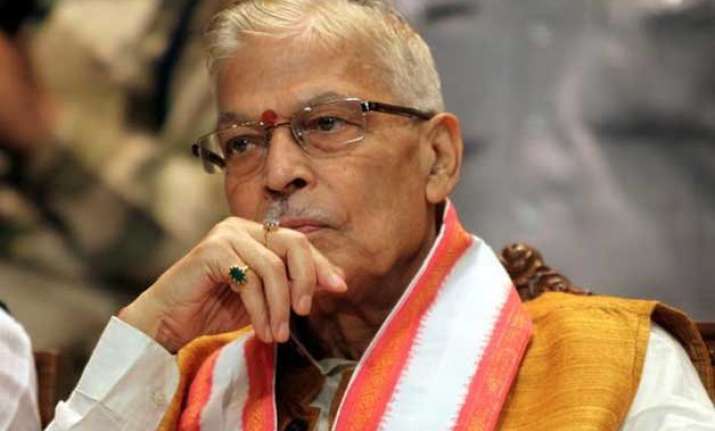 Patna: Veteran BJP leader and former Union Minister Murali Manohar Joshi today said Janata Parivar merger process would not pose any difficulty to the party.
"The merger is yet to happen so there is not much to be said about it. It is just an effort by the Janata Parivar parties to grab power. It will not pose any difficulty to the BJP," Joshi said.
The 81-year-old Lok Sabha member from Kanpur was speaking at a seminar on 'human unity in context of democracy' in memory of Jan Sangh leader Deendayal Upadhyaya here in the state capital.
Joshi refused to comment when asked about blatant sidelining of former Deputy Prime Minister Lal Krishna Advani in the party.
Speaking at the seminar, Joshi expressed concern over numerous divisions across the globe on the lines of race, caste, creed, nations and other things due to which several problems like terrorism and violence had emerged.
"India is also facing the same problem. We stand divided on the basis of caste, class, community, region and language. We will not progress till this situation prevails in the country," he added.
The BJP leader stressed that caste might have played an important role in the ancient society due to various reasons, but it was useless in modern times and a basis of dividing people.
Joshi also threw light on basic differences between Indian and Western thought on the importance of man and his place in the society, saying while western concept tended to break the world into smaller groups, the Indian concept sought to unify the world.
"While the western concept tries to break a problem into several small pieces to solve it, the Indian concept is to treat it holistically. Man and society are interdependent," he said.
Speaking on the occasion, senior Bihar BJP leader Sushil Kumar Modi remembered how, during his youth, he had come in contact with Deendayal Upadhyaya twice, and was waiting at Patna Junction to receive him, when he was assassinated in a train at Mughalsarai station in Uttar Pradesh.