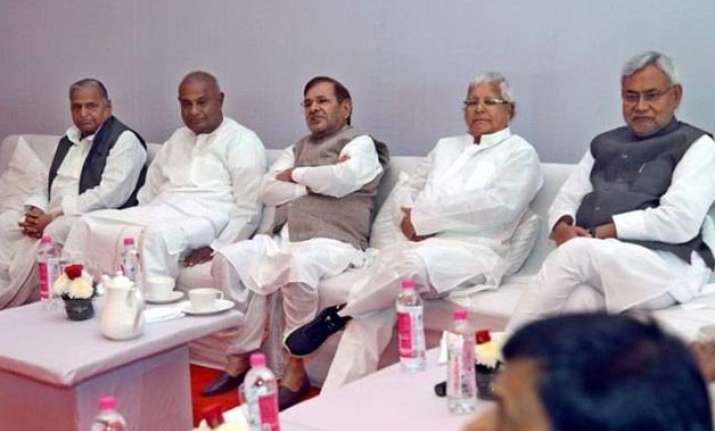 New Delhi: Samajwadi Party chief Mulayam Singh Yadav is likely to announce the merger of six Janata Parivar parties today. The new party is likely to be called the Samajwadi Janata Dal. 
Sources said that Mulayam would be the party president and parliamentary board chairperson. Other key positions are likely to be given to RJD chief Lalu Prasad, Bihar Chief Minister Nitish Kumar and JD(U) president Sharad Yadav.
Sharad Yadav could be made the leader of the party in the Rajya Sabha, sources said. 
On the selection of the symbol for new party, sources said that 'cycle' -- which represents the Samajwadi Party -- or the old Janata Dal symbol 'wheel' may be adopted.
ALSO READ: Janata Parivar merger won't affect LJP-BJP tie-up in Bihar: Paswan
JD(U) national spokesperson and Rajya Sabha MP, KC Tyagi, said Nitish Kumar, Sharad Yadav, JD(S) chief and former Prime PM HD Devegowda, Lalu Prasad, Samajwadi Janata Party chief Kamal Morarka and INLD leader Dushyant Chautala besides Mualyam Singh Yadav's brother Ramgopal Yadav will be present at today's meet which will take place at Mulayam's residence.
In case there is a deadlock when the leaders meet, the leader said, the announcement may be deferred by a day.
"We are meeting for the final announcement. Leaders of all these parties have already talked to each other and all issues have been resolved. We expect the announcement tomorrow (Wednesday)," Tyagi said. 
On April 5, Lalu Prasad had given the slogan of 'Ek Jhanda, Ek Nishan' (one flag, one symbol), almost announcing the merger and had dared the BJP to come to Bihar. "As far as Janata Parivar, the six parties are concerned, their merger has happened and SP chief Mulayam Singh Yadav will formally announce it because he has been authorised for it. Merger means merger. There should be no doubts about it. Only one symbol and no other shall remain because different symbols will create confusion among the public. We will also ask other secular parties to join the new party to combat communalism." 
The parties erstwhile part of Janata Party had unseated the Indira Gandhi-led Congress from power in 1977 and they have come together and fallen apart a number of times in past under different nomenclatures.