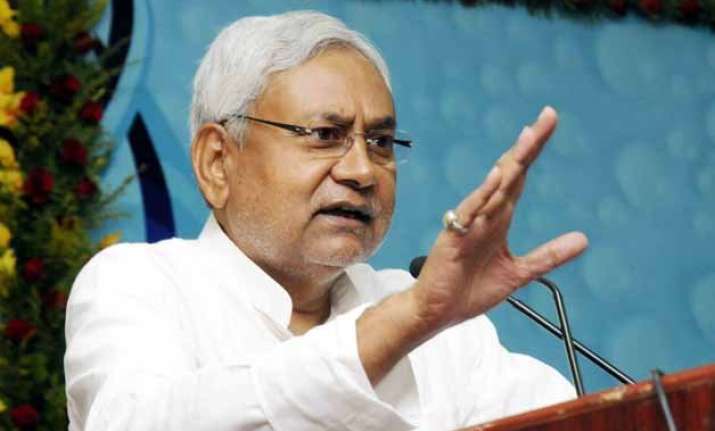 Patna: Amidst doubts over the fate of Janata Parivar merger following comment by a senior Samajwadi Party leader, Bihar Chief Minister Nitish Kumar today categorically said that the chapter is not closed.
"The chapter is still not closed," he said. Kumar, who was speaking to reporters, was seeking to cap the doubts and raging debate over the fate of Janata Parivar merger in the wake of the statement by Samajwadi Party leader Ram Gopal Yadav that merger was not possible before the Bihar assembly polls due to technical issues.
Kumar said he would suggest Mulayam Singh Yadav to convene a meeting of the merger committee soon to "clear the air and end the public debate over the matter."
Kumar, who is playing a significant role in the merger, said as per his knowledge there is no technical hitch.
"But, if some technical issues have been raised as bottleneck they should be sorted out in a meeting of six members of the committee constituted in the last meeting to look into formalities like a common symbol and flag etc," he said.
The confusion over the fate of Janata Parivar after amalgamation of six splinter parties into a single identity had deepened after a recent comment by RJD president Lalu Prasad that though his party was in favour of merger but if there were technical bottlenecks, an alliance would also do.
Samajwadi Party, JD(U), RJD, JD(S), INLD and Samajwadi Party Janata (SJP) are involved in the merger exercise and Ram Gopal Yadav is a member of the committee along with heads of five other parties including Lalu Prasad. The committee would meet under Mulayam Singh Yadav.
Kumar said JD(U) was committed to the merger and there was no issue for the party in the exercise. "The merger is complete and Mulayam Singh Yadav has been declared its head ... There is no question of going back on it," he said.
Brushing aside Ram Gopal Yadav's comment, the chief minister said "His views were personal and advisory in nature and it was not the statement of his party."
Discussion regarding completion of formalities for the merger was tipped to be held on April 25 but could not take place due to the earthquake.
On Lalu Prasad's comment, Kumar said, "He said if there is any technical issue ... First we have to discuss on technical bottlenecks and whether it can be resolved or not. Only then alternatives can be talked about."