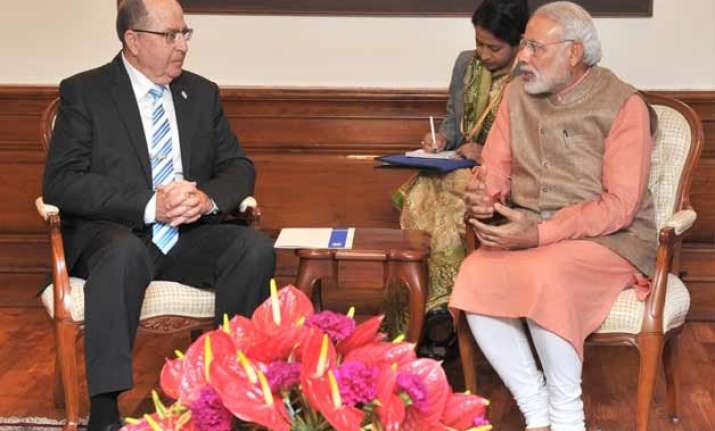 New Delhi: Israeli Defence Minister Moshe Ya'alon vowed to enhance country's relationship with India by participating in Prime Minister Narendra Modi ambitious 'Make in India' programme.
Moshe, who was in India participate in the Aero India 2015 in Bengaluru, yesterday called on Modi, Home Minister Rajnath Singh and Defence Minister Manohar Parrikar separately.
He said that Israel is keen on playing bigger and vast role in developing an industrial base in the India.
Moshe also offered defence technology for the 'Make in India' initiative and talked about the growing Indo-Israel defence and security relations at a conference organised by the Observer Research Foundation.
Under Modi, India has speeded up an arms modernisation drive to counter the rising weight of China, but the government wants to cut dependence on foreign supplies.
Meanwhile, the Home Minister and a five-member Israeli delegation led by Defence Minister also identified cyber security, including cyber forensics and joint development of technology, as the thrust areas for cooperation in the areas of homeland security between the two countries.
"Our cooperation in homeland security is a reflection of our shared security needs," Rajnath Singh said in a statement after the meeting.
"During my visit to Israel in November last year I had invited Israel to become a partner in 'Make in India' initiative in the defence sector," Rajanth Singh said in a twitter post.
Moshe is the first Israeli Defence Minister to visit India since the two countries established full diplomatic relations in 1992
Israel is also India's one of the top three arms suppliers.