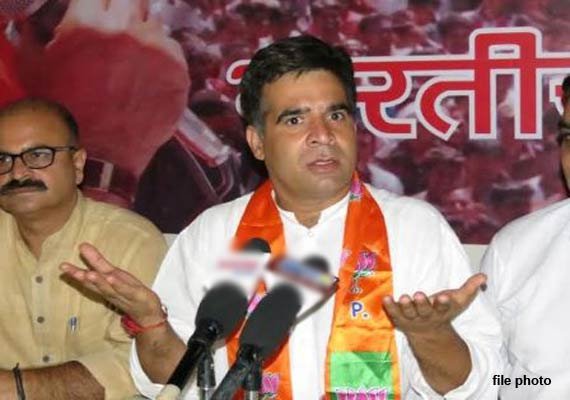 Jammu: BJP candidate from Nowshera seat Ravinder Raina, who was seriously injured in a clash between PDP and BJP workers, was admitted to the ICU of a government hospital today, even as BJP hit out at PDP and said they would file a complaint with the EC on the matter.  
Raina, who is also Bhartiya Janta Yuva Morcha's state president, was among five persons injured in the clash which broke out after some PDP workers allegedly attacked his cavalcade when it was passing through Lambari belt of Noushera of Rajouri district last night.
"Raina was seriously injured and has been shifted to ICU in Government Medical College in Jammu," BJP spokesperson Sunil Sethi told reporters here.
Hitting out at PDP, Sethi said, "Is Mufti Sayeed preaching his party workers and leaders to attack others? He should come and see the behavior of his leaders and workers, which we condemn."
Asserting that such attacks would not be tolerated, BJP said they would be filing a complaint with the Election Commissioner in New Delhi over police's failure to take action against police and protect its candidates.  In another incident, in Billawar belt of Kathua district, BJP candidate Nirmal Singh and his wife's car was allegedly attacked by Congress workers.
Earlier, BJP senior leader and cricketer Navjot Singh Sidhu was attacked twice in Gandhinagar Assembly constituency during campaigning.
Claiming that the attacks were because other parties were frustrated over BJP's increasing popularity in the state, Sethi said, "We are going to lodge a complaint with Election Commission in New Delhi. Police has failed to protect our leaders. It is their failure and they have acted on PDP side".
Yesterday, SSP (Rajouri) Mohmmad Haseeb had told PTI that there was a clash between BJP and PDP workers in which three BJP men, including Raina, and two PDP workers were injured.  Tension prevailed in Rajouri and Jammu over the incident.
BJP workers also held a protest against the incident.  BJP spokesman Arun Gupta also condemned the incidents and demanded action against the culprits.