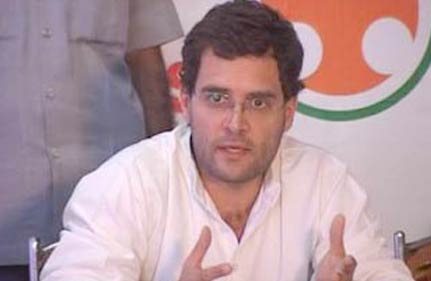 Vadodara, Nov 26: Congress leader Rahul Gandhi today said he was not interested "right now" in getting the Prime Ministerial post and needed to concentrate on the work allotted to him.
"Serving the country is the main aim and becoming the Prime Minister could not be the sole motto. The PM's post is not the only job. There are many other things to do", he said interacting with students here.
Responding to a question from a student, Rahul said "politics is not only about getting the PM's seat or chair but it has a lot more to do with the development of various sectors".
"Right now, I am not interested in getting the PM's post. I need to concentrate on the work that is allotted to me and let me concentrate on goals I have decided", the scion of the Nehru-Gandhi family said.
Rahul rejected fixing of minimum and maximum age for entering and staying in politics saying "mental age is more important than physical age."
"Prime Minister Manmohan Singh is 70-plus but he is young in mind and doing a good job", he said.
"Serving the country should be the main aim of every citizen. There are so many ways you can serve the country," he said at the interaction that was barred to the media. PTI