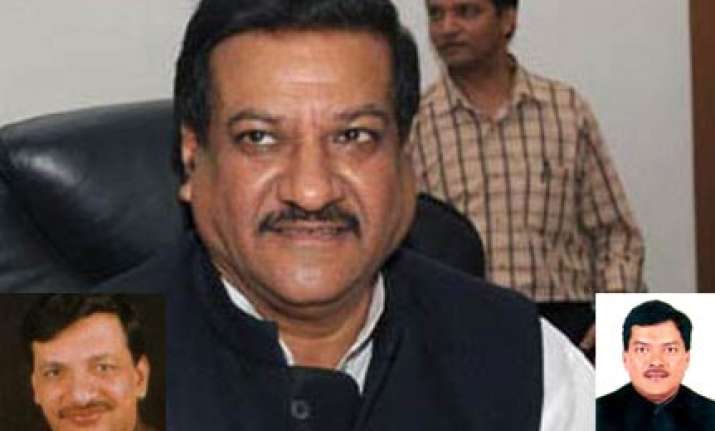 The hunt for the successor to Maharashtra chief minister Ashok Chavan  has begun in right earnest in state Congress circles, as the different camps went into overactive  mode to pitch for their own leaders.
Names of Maharashtra Agriculture Minister Balasaheb Thorat, Union Ministers Prithviraj Chavan and Mukul Wasnik as well as Vilasrao Deshmukh are in the reckoning, Congress sources said.
Central observers Pranab Mukherjee and A K Antony will be consulting the party MLAs and leaders before the Congress Legislature Party will formally meet at 10 pm. The new leader will be sworn in chief minister on Wednesday.
In case the high command vetoes Vilasrao Deshmukh's candidature, as his name also figured in the scam, he is all set to back Balasaheb Thorat, who enjoys a clean image in the state politics.
Thorat has been an MLA since 1985, a cabinet minister for last 11 years, a staunch loyalist of Gandhi family and a leading figure in the state co-operative movement.
Mukul Wasnik, Congress leader from Vidarbha region, has credentials of being a Gandhi family loyalist, a Dalit, and an organisation man with clean image. He is being backed by the Young Turks in the party.
Names of Prithviraj Chavan, known as a staunch opponent of NCP chief Sharad Pawar in western Maharashtra, and Union Minister Sushilkumar Shinde who is a Dalit, are also making the rounds.
Pawar, on his part, is playing his own game with an eye on the next Assembly polls.The state Congress leaders are wary about his moves, which includes projecting a Maratha as a chief minister.