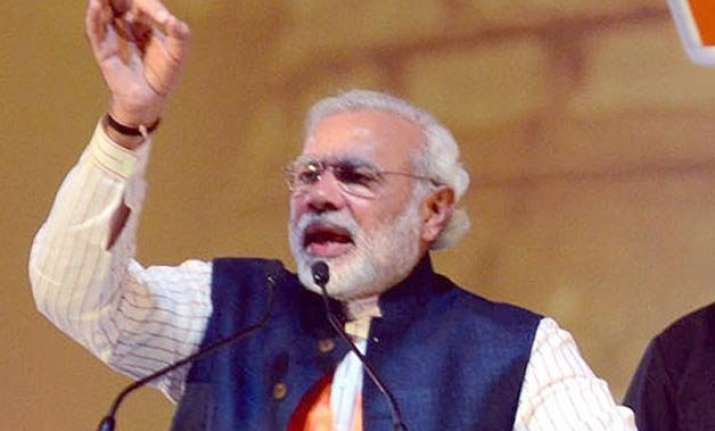 New Delhi: Breaking his silence over Dadri lynching incident, Prime Minister Narendra Modi today said that Hindus and Muslims have to decide whether they want to fight each other or fight poverty together.
In his first comments in the wake of lynching of a 50-year-old man in Dadri in UP over beef rumours, Modi told the public meeting, "I have said it earlier also. We have to decide whether Hindus should fight Muslims or poverty. Muslims should decide whether to fight Hindus or poverty."
Speaking at a rally in Bihar's Nawada, the PM said that small parties try to score political points through communal statements.
Asking to ignore such controversial statements by the leaders, PM said, "Country has to stay united and only communal harmony and brotherhood will take the nation forward."
"I want to tell the countrymen, some small time politicians are hell bent on making irresponsible statements for their political interests.... Such statements should end... I want to urge people not to pay attention to such statements, even if Narendra Modi himself says (anything like that)," the Prime Minister emphasised.
His remarks come against the backdrop of controversial statements made by various politicians, including BJP Ministers Mahesh Sharma and Sanjeev Balyan and other leaders like Sakshi Maharaj, Yogi Adityanath and Sangeet Som, as also SP's Azam Khan and AIMIM leader Assaduddin Owaisi.
On September 29, a 50-year old man Mohammad Akhlaq was lynched by a mob of around 100 people in Dadri's Bisahda village near Delhi. A high-pitched debate then started on beef and cow slaughter and several condemnable remarks were passed by political leaders from all parties.
Opposition parties united against BJP and demanded a statement by PM over the issue. Few leaders even accused the PM of giving 'tacit approval' to the incident by remaining silent.
Referring to Mukherjee's remarks made yesterday, Modi told the countrymen, "If you need to pay heed, it should be to the message and guidance given by the President.
"Yesterday, the President showed the path. Whatever the head of the country of 125 crore people has said, there can be no bigger message, no bigger direction, no bigger inspiration than that."
He said all the countrymen should tread the path shown by the President and "only then can India meet the expectations that the world has from us."
Modi said the divisive ways and means of doing politics for "politicals interests" should end.
Earlier, adressing poll rallies in Munger, Begusarai and Samastipur, Modi launched a blistering attack on RJD chief Lalu Prasad for his "Hindus also eat beef" comments calling it an "insult" to "Yaduvanshis" (Yadav clan), provoking accusations of attempting to communalise the polls.
While pitching for communal harmony, the Prime Minister said his government is moving ahead with "this view and culture".
Modi, whose silence on the Dadri beef lynching incident has been questioned by the opposition, repeatedly targeted Lalu over his beef remark, terming it as an insult to the "yaduvanshis" (yadava clan) as also Bihar.
"What all is he saying? What all Yadavs eat? Whatever position Lalu rose to, it was because of these Yaduvanshis and he insulted them. What kind of abuses you are hurling at them? Is it not an insult of Yadavs and Bihar? Do not humiliate the Yaduvanshis so much. Laluji, these Yaduvanshis helped you to come to power," said Modi.
He also trashed Lalu's explanation that he made the beef remark under the influence of "shaitan" (devil).
"I wonder the devil got only his (Lalu) body to enter. I want to know how the shaitan got the address (of Lalu). The devil got no other body in entire Bihar, India and the whole world except that of his. And he also welcomed the devil as if some relative has come," Modi said.
Modi's repeated reference to Lalu's beef remark drew a sharp reaction from Bihar Chief Minister Nitish Kumar, who termed it as "a brazen attempt to add communal texture to the polls".
"The real Modi on display -- brazen attempt to add communal texture to Bihar polls, but deafening silence on deplorable incident of Dadri," Kumar tweeted.
In another tweet, Kumar said it was for all to see "why Vajpayee ji was forced to remind him (Modi) to follow Raj Dharma, but wonder who will do the Vajpayee today ?"
Kumar was referring to the then Prime Minister Atal Bihari Vajpayee's words during his visit to a relief camp after the 2002 communal riots in Gujarat when Modi was the Chief Minister.