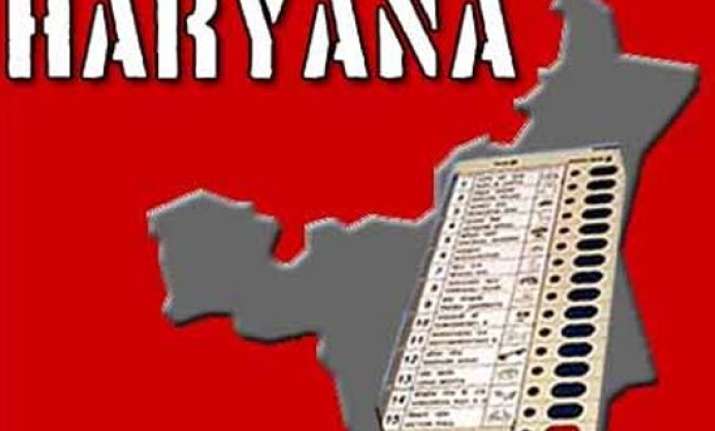 Chandigarh: With multi-cornered contests on most seats, Haryana goes to polls Wednesday with over 1.63 crore voters eligible to exercise their franchise to elect 90 assembly members from the 1,351 candidates in the fray.
Balloting will be held at 16,357 centres between 7 a.m. and 6 p.m.
"A total of 16,305,217 (1.63 crore) voters would cast their vote to decide the fate of 1,351 candidates. These voters include 8,737,116 males, 7,479,439 females, 88,662 service voters and 12 NRI voters. Out of the total candidates, 116 are females," state's chief electoral officer Shrikant Walgad said Tuesday.
Out of 90 assembly constituencies, 63 are general and 17 reserved seats. 2,700 polling booths have been declared sensitive.
There would be about 70,000 polling officials and over 50,000 security personnel, including 80 companies of the Central Reserve Police Force (CRPF), stationed across Haryana for the election, Walgad said.
He urged voters to exercise their franchise "without fear or greed".
The main contest is between the ruling Congress, the main opposition Indian National Lok Dal (INLD) and the Bharatiya Janata Party (BJP). The BJP is going alone for the first time in the state in this election.
Others in the fray include the Haryana Janhit Congress (HJC), the newly floated Haryana Jan Chetna Party (HJCP), the Haryana Lokhit Party (HLP) and the Bahujan Samaj Party (BSP).
In 30 assembly seats, there are more than 15 contestants and two electronic voting machines (EVMs) each would be installed. One EVM each would be installed in the remaining 60 assembly constituencies.
A maximum of 31 candidates are contesting in Bhiwani assembly constituency, whereas a minimum of seven candidates each are in Shahbad and Nuh assembly seats.
The highest number of voters in any constituency are 316,567 voters in Badshahpur assembly constituency in Gurgaon district, whereas minimum number of 126,804 voters are in Narnaul assembly seat.
Walgad said that Congress and BJP have fielded candidates in all 90 assembly seats, while the INLD and HJC have fielded 88 and 65 each. There are 603 Independent candidates in the fray this time.
The Congress, led by Chief Minister Bhupinder Singh Hooda, is seeking a third term in office. Hooda has been chief minister since March 2005. His second term started November 2009.
In most constituencies, the contest this time is multi-cornered instead of the straight contests between the Congress and INLD as earlier.
The big names in the fray include Hooda, Hisar MP and INLD leader Dushyant Chautala, INLD leader Abhay Chautala, HJC leader Kuldeep Bishnoi, state BJP president Ram Bilas Sharma, former union minister Venod Sharma and BJP leader Abhimanyu.
Elections are also being held for 288 assembly seats in Maharashtra Wednesday.