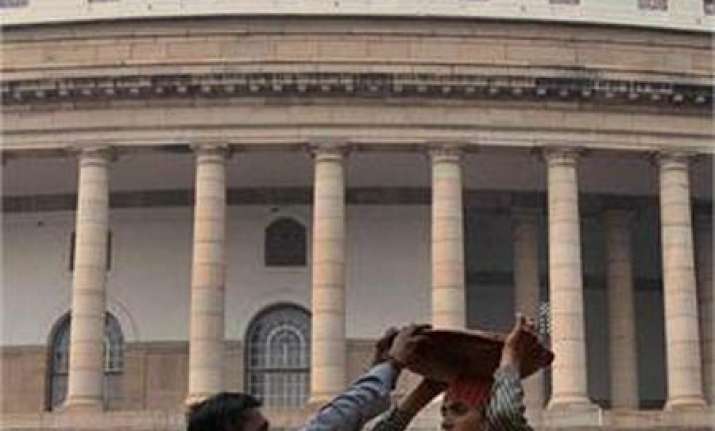 New Delhi, Nov 18 : The opposition uproar over demand for a JPC probe in 2G spectrum issue refused to die down in Parliament today with the Rajya Sabha adjourning for the day minutes after it met and the Lok Sabha calling off the Question Hour.
As soon as the Lok Sabha assembled, members of BJP, BJD and SP trooped into the well raising slogans for setting up a Joint Parliamentary Committee (JPC) to probe the alleged irregularities in the allocation of 2G spectrum.When the BJP-led opposition raised slogans "We want JPC", Congress members countered them waving huge placards against the B S Yeddyurappa government in Karnataka.
"Dismiss the BJP Government. Seek Fresh mandate in Karnataka"; "We stand for moral values, what do you stand for?" read the placards waved by the Congress members.
Earlier this week, government auditor CAG had indicted Telecom Minister A Raja of committing irregularities in allocation of 2G spectrum causing a presumed loss of Rs 1.76 lakh crore to the exchequer.
Speaker Meira Kumar's attempts to pacify the members bore no fruit and she adjourned the House till noon hardly a few minutes after it met.In the Rajya Sabha, opposition BJP and AIADMK members rushed to the well the moment Deputy Chairman K Rahman Khan took up the listed business.
Khan told the members to go back to their places so that he could take up an obituary reference to condole the death of over 65 persons in a building collapse in East Delhi.But hell broke loose thereafter with BJP and AIADMK members rushing into the well shouting "we want JPC."
Prime Minister Manmohan Singh was present in the House when it witnessed the commotion.At one point some members from Treasury benches including Mabel Rebello too started moving towards the well but were prevented from doing so by Rajeev Shukla (Cong).
As the Prime Minister too gestured them not to go to the well, they stood in the aisles raising certain issues that could not be heard in the din.PTI