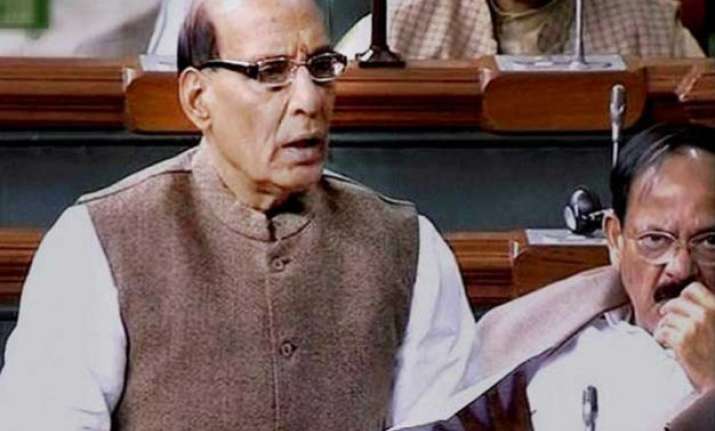 New Delhi: The BJP-led central government today dissociated itself from the controversial remarks made by newly appointed Chief Minister of Jammu and Kashmir Mufti Mohammad Sayeed.
Mufti had credited Pakistan and Hurriyat for creating conducive atmosphere for Assembly elections in Jammu and Kashmir, just after taking over as the new CM of the state on Sunday.
The entire opposition in Lok Sabha led by Congress party today asked Prime Minister Narendra Modi to clarify his stand on the controversial remarks made by Mufti.
Mufti's statement has evoked sharp responses from opposition parties across the country.
READ ALSO: Pak, militants allowed conducive atmosphere for polls, says Mufti
Speaking in the lower house of Parliament, Leader of Opposition Mallikarjun Kharge said that since J&K CM has gone on record in saying that he had already conveyed to the Prime Minister the positive role played by Pakistan and Hurriyat in creating conducive atmosphere for holding Assembly elections, Modi should clarify as to what actually transpired between him and Mufti.
 
Kharge was supported by the entire opposition benches.
 
Responding to Kharge's statement, Home Minister reiterated that both his party (BJP) and the govt have completely dissociated themselves from the statement of Mufti Mohammad Sayeed.
The Home Minister clarified that the govt gives the credit to Army, Election Commission and people of J&K for peaceful elections in the state.
Rajnath added that he was making this statement with full consent of Prime Minister Modi.
Unsatisfied with Home Minister's explanation, the Congress MPs staged walk-out in the Lok Sabha.
Mufti Mohammad Sayeed's controversial comments giving credit to Pakistan for the peaceful assembly election in the state created a furore in Rajya Sabha as well, with the opposition terming it anti-national.
"The chief minister of Jammu and Kashmir was sworn in yesterday in the presence of prime minister (Narendra Modi), L.K. Advani, Murli Manohar Joshi and BJP president Amit Shah... A press conference was held soon after in which the chief minister made a statement which was most controversial and hurt the nation," Congress leader Shantaram Naik said, raising the issue in the house.
"He said elections were peaceful because of the forces 'us paar' (on the other side). He indicated Pakistan. Then (he said) because of millitants and because of Hurriyat... He gave credit to these three for peaceful elections in Jammu and Kashmir," Naik said.
Opposition members were heard chanting "shame shame" as the Congress member said this.
"This statement is anti-national. BJP spokespersons immediately went into action to salvage the situation and said it is an 'untrue' statement. BJP was embarrased. I will also say this is a violation of oath of office. Within minutes (of taking oath) he is violation the oath by showing allegiance to certain forces which are anti-national," said Naik.
"Secondly what is the role of election commission. It is election commission and security forces and people of Jammu and Kashmir who made this election possible. J&K chief minister did not give credit to any of them."
He also targeted the state government and said: "One of the ministers, his brother is in Hurriyat, no problem... his wife is Pakistani, still I don't know how they are going to tackle this issue."
"During election campaign, Modi very clearly said 370 par kam se kam charcha to karo (atleast discuss article 370)," he added, asking government for an explanation.
He was joined by Janata Dal-United (JD-U) leader K.C. Tyagi who said BJP has murdered the ideology of Syama Prasad Mukherjee, founder of BJP's predecessor Bharatiya Jana Sangh.
"The prime minister was there in the oath taking ceremony. Mufti sahab was taking oath. At that time there were two flags on the dais, one of Jammu and Kashmir and one of India," said Tyagi.
"Mukherjee sahab was martyred against this, and yesterday they murdered his ideology," the JD-U leader said.
Minister of State for Parliamentary Affairs Mukhtar Abbas Naqvi tried to salvage the situation, saying the credit for peaceful election goes to the people of the state more than anyone else.
"All I have to say is that people of Jammu, Kashmir, Leh and Kargil have shown their respect for democracy and the way they participated in Lok Sabha and assembly elections, we salute them," Naqvi said.
"If credit goes to someone, it goes to the people first and election commission and the local and central security forces which helped in free and fair election," he said.
Within hours of taking oath as chief minister Sunday, Sayeed said: "There is Hurriyat, there are militants. If they had done something, it would not have been such an election, there would not have been such participation."
He also said that people from across the border also contributed to making the atmosphere conducive.
Sayeed also pitched for taking Hurriyat Conference and separatists on board in talks on the Kashmir problem.