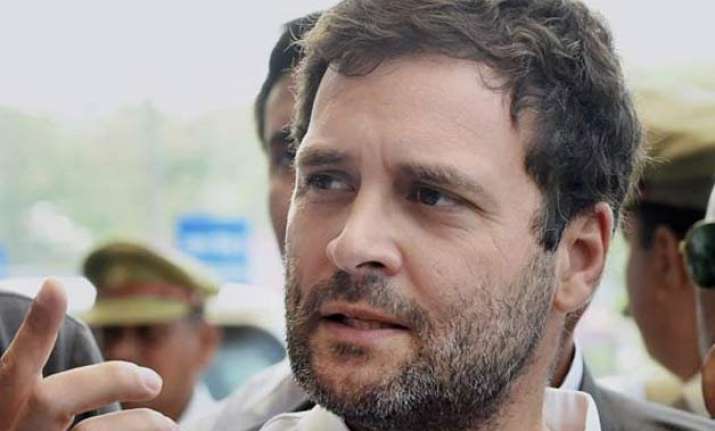 Pune: Congress vice-president Rahul Gandhi today met agitating students at the prestigious Film and Television Institute of India (FTII) campus in Pune.
Addressing the stuents, Rahul attacked the government saying 'you are taking someone who is mediocre and putting him above people (students) who don't want to be mediocre in life'.
"If the student body doesnt want you(Gajendra Chauhan), then you clearly should not be there," Rahul said.
Around 250 students are on strike, demanding the removal of small screen actor, Gajendra Chauhan, as chairman of the premier film institute's governing council. They also want the formation of a committee which will make the rules for FTII's council.
The Congress vice-president also slammed RSS and its ideology for consistently promoting mediocre people.
"The RSS and its wings promote mediocrity. I have seen this everywhere. This is not simply about this school, this is being done to the entire country," he said.
"They will say you are anti-national, anti-Hindu. They are scared of you.That is the nature of a bully. Calling anti-national or anti-Hindu are techniques to shut you (students) up," he added.
Sources say that some students had approached Rahul to intervene in the matter.
Students have been on strike for nearly 50 days, boycotting academic work after failure of their talks with Union Information and Broadcasting minister Arun Jaitley in New Delhi on July 3.
Meanwhile, BJP workers are staging protest against Rahul Gandhi's visit to Pune. They  waved black flags outside FTII in Pune.
Criticising Rahul for visiting Pune instead of speaking in Parliament over the issue, Union Minister R P Rudy said, "Congress VP should come and talk inside the Parliament, leave that alone, now he he is going to Pune. Why not have discussions in Parliament?"
"Rahul Gandhi is going to FTII just for photo opportunity and politicizing the issue," added Siddharth Nath Singh,spokesperson of  BJP.
Earlier, in a letter to Rahul, the President of FTII Students Association, Harishankar Nachimuthu is learnt to have requested the leader to support them and take up the issue of FTII, like he had taken up the issue of Ambedkar Periyar Study Circle in Indian Institute of Technology, Madras.
After agitation and a political controversy, the ban on the Dalit students body Ambedkar Periyar Study Circle (APSC) was finally revoked last month.
Rahul had then attacked the NDA government over "centralisation" of power and de-recognition of the student group in IIT Madras and asserted that his party will always stand against injustice whether done on Dalits, tribals, women or people from any religion.
IIT Madras had earlier de-recognised the Ambedkar-Periyar Study Circle over an anonymous complaint to the Human Resources Development ministry that it was trying to spread hatred towards Prime Minister Narendra Modi's policies by distributing provocative pamphlets and posters in the campus, raking up a controversy.
The government had denied allegations of interference in the functioning of educational institutions.
Earlier, a number of filmmakers have also resigned as members of the FTII Society expressing their solidarity with the students.
With PTI Inputs