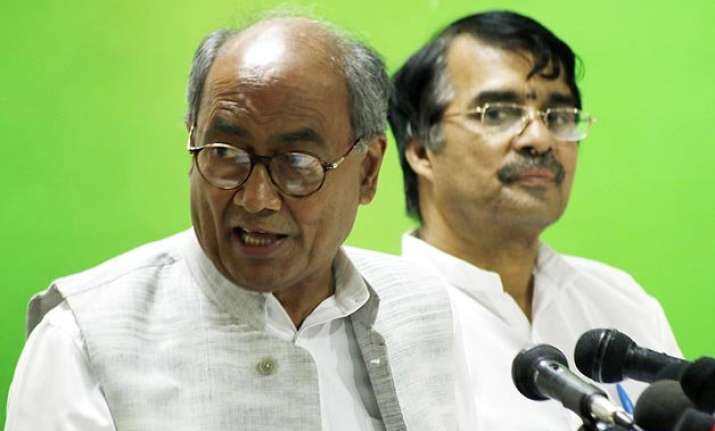 Indore:  Congress general secretary Digvijaya Singh today described Narendra Modi-led NDA government as "UPA-3", saying that BJP has virtually embraced policies of the previous government.
"BJP had opposed the Aadhaar card scheme and Foreign Direct Investment (FDI) in retail as well as insurance sector during the previous UPA government. Now, the BJP-led central government has adopted these policies and wants to win false acclaim for it," Rajya Sabha member Digvijaya told reporters here.
He said that the Modi-led NDA government has betrayed voters on the black money issue since it has totally failed to bring back this ill-gotten wealth stashed away in foreign banks abroad.
Meanwhile, equating Prime Minister Narendra Modi with Delhi Chief Minister Arvind Kejriwal, Digvijaya Singh said that both the leaders have same style of functioning and they don't care about anyone.
"Kejriwal and Modi style of functioning is same. They don't care for anyone. They say be with us or get lost," he said.Talking about the the ongoing tiff over appointment ofthe Delhi working chief secretary, former Madhya Pradesh Chief Minister Digvijaya said it was merely a "drama" being enactedby Kejriwal.
"Which officer should be handed over responsibility of chief secretary when he goes on a leave is not such a big issue but Kejriwal was making it out as an issue and is enacting a big drama, since his performance has been zero," Singh said.
He said that he stands by his allegations that Madhya Pradesh Chief Minister Shivraj Singh Chouhan was involved in the much-talked about Madhya Pradesh Professional Examination Board's (MPPEB) scam.
Digvijaya Singh said that he will approach the Supreme Court on the MPPEB issue, after the summer vacation.