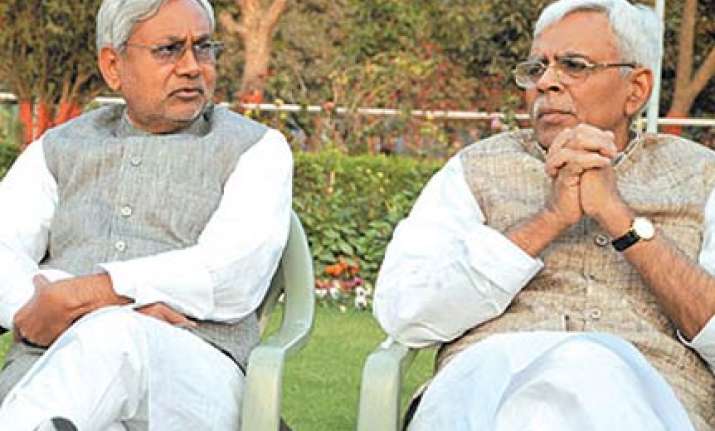 New Delhi, Oct 27 :  In a veiled attack on BJP, JD(U) today said a demand for action against hardline Hurriyat leader Syed Ali Shah Geelani and writer Arundhati Roy for their speech on Kashmir was an "overreaction" and was "childish".
Party spokesman Shivanand Tewari also saw nothing wrong in BJP MP Ram Jethmalani coming out in support of the Kashmir interlocutors led by Dileep Padgaonkar. 
BJP had accused Padgaonkar of internationalising the Kashmir problem after he said a solution to the issue was not possible without involving Pakistan. 
Without taking the name of BJP, its ally in Bihar, Tiwari recalled that during the NDA rule the then Prime Minister Atal Bihari Vajpayee had constituted a Committee on Kashmir which was headed by Jethmalani of which Padgaonkar was a member. 
"We are a mature society and nation and any overreaction is childish", Tiwari told PTI in the backdrop of BJP's demand for the arrest of the two on sedition charges. 
He also criticised Law Minister M Veerappa Moily for assailing Geelani and Roy, noting that he is a "seasoned leader and a literary figure" and should refrain from making such statements. 
Tewari recalled that Jawaharlal Nehru had taken the Kashmir issue to the United Nations. He, however, said the issue of plebiscite has become infructous due to subsequent developments. 
Besides, he said that even recently, External Affairs Minister S M Krishna had expressed readiness to discuss all outstanding issues with Pakistan including Kashmir. 
Roy, a Booker Prize winning author, had said, "Kashmir has never been an integral part of India. It is a historical fact. Even the Indian government has accepted this."