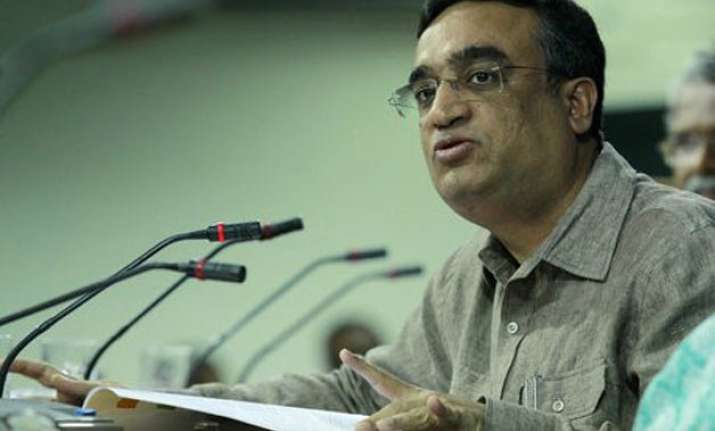 New Delhi:  Targeting the Arvind Kejriwal-led government, Congress today said the "jhooti sarkar" of Delhi had failed to keep its promises made to the people within the first 100 days of its governance.
Claiming that AAP had become "khas" (special) from "aam" (common), the Congress accused the party of betraying its founding principles, besides failing on various aspects of governance, including development, price rise, women safety and justice to poor and weaker sections.
The Congress also released a 16-page booklet titled '100 din paar Delhi mein jhoothi sarkar' (100 days over, dishonest government in Delhi) which listed the "failures" of the AAP government, which completed 100 days in office yesterday.
The cover page of the booklet carried a graphic depicting a crow biting Kejriwal on his head.
"We all know what happens to a man who speaks a lie. We all have heard the song from Bobby film. We all know the saying, what more I can say? People will see the cover picture and will automatically understand what it is," Delhi Congress chief Ajay Maken said referring to the "jhooth bole kauaa kaate" song from the old Bollywood flick.
Accusing AAP of having different criteria to gauge transparency, Maken said, "The AAP-led government held open cabinet meeting yesterday at Connaught Place patting itself on "transparency. Today, we want to ask you... you pat yourself during cabinet meeting in front of all, but during national council meeting you insulted Anant Kumar, Yogendra Yadav and threw them out."
"You did not allow people to enter, did not allow anyone to take phone along with. So, your criteria for yourself is one and for others it is different," he said.
"So, if you are so transparent, then all your programmes should be transparent. You cannot hold closed-door meeting and release selective video tapes, and then claim transparency by holding cabinet meeting at Connaught Place.
This has exposed your double standards," Maken said.
Dubbing the AAP dispensation in Delhi as "government of controversies", Maken said the ruling party's MLAs were no more interested in leading the life of a commoner as had been declared by Kejriwal earlier.
"On June 7, 2013 Arvind Kejriwal gave an affidavit that each of AAP MLA will lead a commoner's life. Then why he took six-bedroom bungalow? Their deputy CM (Manish Sisodia) demanded the bungalow which Congress' (former) Chief Minister Sheila Dikshit had used," Maken said, adding that Kejriwal had also replaced his Wagon R with Toyota Innova.
Stressing AAP continues to function with a "mindset of opposition", the Congress leader said the government's decision to convene emergency Assembly session to discuss its rights was "unfortunate". The two-day session started today.
"The Government has completed 100 days, but budget has still not been presented. Perhaps, this is the longest period that vote on account has prevailed.
"Development in unauthorized colonies has stopped. Workers are not getting salaries, corporations don't have money to pay salaries. But the Delhi government doesn't want to discuss the problems, it wants to discuss how to get more rights. This is very sad," Maken said.
On the AAP government allegedly seeking rights to take action against Lieutenant Governor, Maken said such a demand can be met only through Constitutional amendment which is not under the jurisdiction of the Delhi Assembly.
"So, why are they wasting time discussing amendments to Constitution? Assembly should discuss problems which residents are facing and not Constitutional amendments. I think this is injustice to the people of Delhi and waste of Delhi assembly's time," he added.