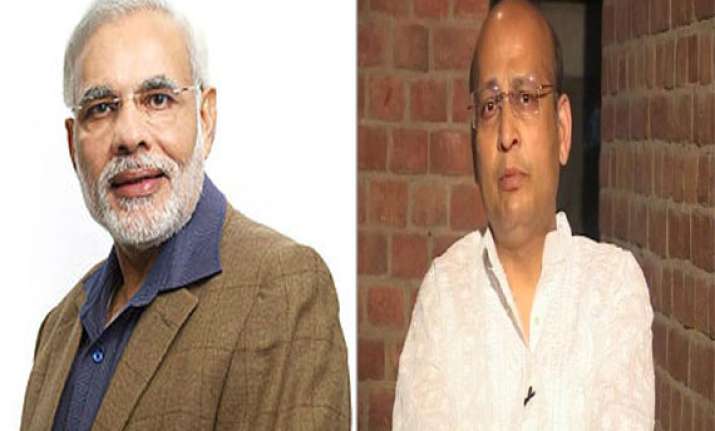 New Delhi: Congress on Thursday  put Narendra Modi in the rogue's gallery with the likes of "dictators" Hitler, Mussolini, Idi Amin and Zia Ul Haq.
'All these dictators were popularly elected but their election did not mean their exoneration from charges of genocide and human rights violations,' party spokesman Abhishek Singhvi told reporters, at a time when parties are busy in a high-decibel poll campaign.
Singhvi was reacting to the BJP PM candidate repeatedly ruling out in various interviews that he will not apologise for the 2002 Gujarat riots as "people's court has already judged him".
Insisting that electoral verdicts in any way does not validate either genocide or communalism, Singhvi said both Hitler and Mussolini had won elections with wide margins and so was the situation with Idi Amin and Zia Ul Haq.
'Popularly elected dictators--Modi in Gujarat...And Idi Amin in Uganda... One thing is common: they are judge, jury and prosecutor, all rolled into one. They have no compassion, no 'karuna'. They never apologise as they are convinced of their infallibility. They look at the letter and never at the spirit,' he said.
Noting that pride and arrogance also come to dictators, he suggested that they fail to understand that certain issues were not politics, but principles.
'Compassion and apology are ....Alien to BJP and Modi,' he said noting that dictators never apologise as they feel that they are infallible.
He said that the issues of brotherhood, secularism and inclusion overshadow the development claims in Gujarat.
'What is the connect between and electoral victory and what happened in 2002 in Gujarat. Is it a Parkinson's logic,' he said, adding there was no hope in hell that BJP was winning" when pointed about Modi's remarks that the issue of apology would not have arisen if he had lost the elections in 2002 or 2007.
Singhvi also refused to hazard a guess about Modi's remarks on 2014 Lok Sabha polls saying the BJP leader may be a soothsayer and prophets and will not predict what will happen.
To drive home the point that Modi was a 'dictator', he ran a CD of Uma Bharati at the AICC briefing in which the firebrand leader had come down heavily against Modi, dubbing him as a "vinashpurush" (man of destruction) whose rule has turned Gujarat into a 'land of fear' and his development claims were like 'baloons'.
The CD was about two-three year old when she was not in BJP and had floated her own outfit-Bhartiya Janshakti Party.
Singhvi said the fact was relevant today as Bharti has not denied it till this day.
Asked about Modi's remark that BJP government will not vindictive if voted to power, Shingvi said 'it is like cat going to Haj after killing 1000 mice.'
He said that Modi keeps talking about the decision of people's courts regarding 2002 riots but the fact is that even the real courts in the country "have not opined finally on clean chit by SIT" to him.
He said that there are laws in the country and the BJP leader should wait for the day of his reckoning.
'No final decision has yet come either from High Court or the Supreme Court. You can not run away from courts on the pretext of popularity,' Singhvi said.
He said that compassion and apology have to start with acknowledgement and, contrition after acknowledgement, the words which are alien to BJP and Modi.
'Even BJP's senior leaders are using the word dictator for him,' he said.
Singhvi also said that even Tamil Nadu Chief Minister J Jayalalitha said that there was more marketing and less development in Gujarat.
Maintaining that electoral victories never legitimise communalism, he said that he knows that talks of development by Modi were not true 'even if true, such claims cannot negate the basic issues of communal amity".
Meanwhile a party leader, speaking on the condition of anonymity, said that if victories in election could exonerate somebody from criminal charges then cases against Congress leaders Sajjan Kumar, Jagdish Tytler would have ceased to exist after their victories in elections after 1984 anti-Sikh riots.