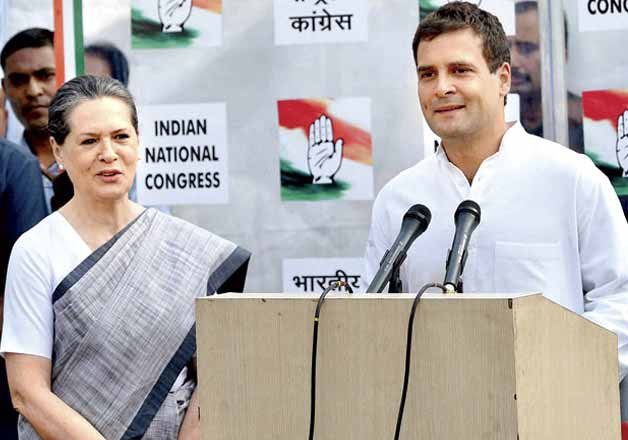 New Delhi: The Congress party is facing its worst-ever financial crisis. The party's corporate funding almost dried up in run-up to the recently-concluded assembly elections in Delhi, Jammu and Kashmir, Jharkhand, Haryana and Maharashtra.
The party has raised its membership fees from Rs 5 to Rs 250. Recently, the party launched a membership drive and renewal of old memberships. The party is looking to raise about Rs 1,000 crore through this drive. 
A presentation given by party's treasurer Motilal Vohra to general secretaries suggested ideas to raise funds from public through its 3.86 crore members all over the country. 
Vohra's first proposal was that a Congress activist should be allowed to keep 5 per cent of the collected donation money as incentive or commission. 
Sources said that any of the Congress' organisational structure committees, which is responsible for collecting funds, will be allowed to retain 50 per cent of total money for itself and rest will be distributed among others.
The Congress organisational structure consists of four primary committees -- the All India Congress Committee (AICC), the Pradesh Congress Committee (PCC), the Sector Congress Committee (SCC) and the Polling Booth Congress Committee (PBCC). 
According to the above formula, any of the four committees will be allowed to keep 50 per cent of the total collected fund while 15 per cent of the remaining fund will be distributed among three others.
Vohra, through his presentation, said that the party is shunned by corporate and thus it is time to return to people.
In the past, Congress vice-president Rahul Gandhi had suggested the AICC to adopt the Kerala model under which funds are collected from the public. 
In Kerala, the state unit goes directly to people instead of approaching individual or business houses to collect funds.
Another plan by Vohra is that selling seats at AICC or PCC sessions for Rs10 lakh. 
Vohra added that whoever gives money will also vote for the party. 
In December last year, a rally by Congress chief Sonia Gandhi was cancelled due to financial crunch. 
It is believed that during Lok Sabha elections, the party had to take a big overdraft of Rs 300 crore from banks. Congress treasurer Moti Lal Vora, while admitting to the overdraft, said there was nothing abnormal about it and it was an internal affair.