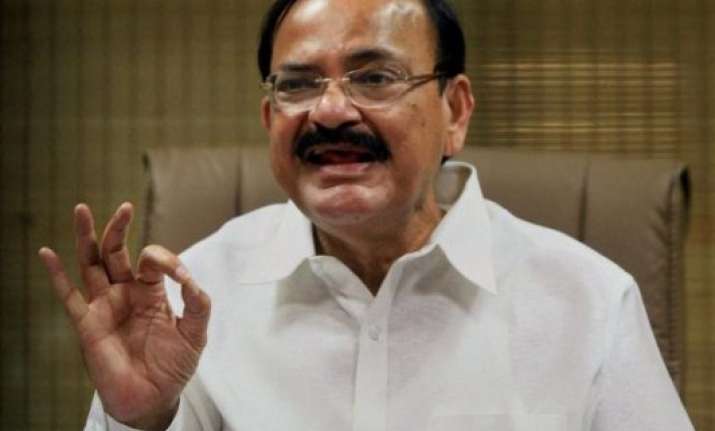 Mumbai: Union Urban Development Minister Venkaiah Naidu today expressed confidence that BJP will form government in Maharashtra after the October 15 polls.  "All surveys, opinion polls and huge crowds cheering for PM's rallies all over the state only reflect the favourable public mood for BJP," Naidu told reporters here.  
"After the BJP government came to power at the Centre, market sentiment and investment confidence improved greatly," the minister said.
"Inflation went down and SIT for bringing back black money has been set up. India's image has improved internationally and India even bagged the first chairmanship of BRICS bank," Naidu said, citing Modi government's achievements.
"In five weeks, we opened 5 crore Jan Dhan scheme bank accounts for the poor and also passed judicial appointments bill that was pending for 23 years," he said. Regretting the split with Shiv Sena and the latter's constant attack on BJP during the poll campaign, Naidu said Sena should instead target Congress and NCP.  
"BJP's only target is to wipe out the corrupt rule of 15 years of Congress-NCP. A state ridden with unemployment, corruption, agrarian crisis, farmers' suicides is looking for a drastic change," he said.
He asked the people to vote for BJP to strengthen Modi government and allow harmony between state and the Centre for faster growth and development of Maharashtra.  
On Congress leader Rahul Gandhi's criticism on price-hike of life-saving drugs, Naidu said the drug prices have either dropped or remained the same after BJP came to power.
"Congress knows that it will get the lowest ever seats in Maharashtra, so they are resorting to all kinds of false allegations to divert people's attentions from main issues," he said.