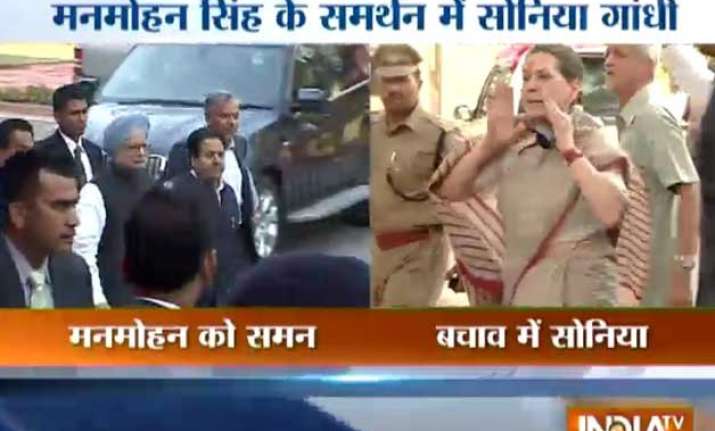 New Delhi: Congress president Sonia Gandhi and top party leaders today took out a march from the AICC headquarters at 24, Akbar Road, to the residence of former Prime Minister Manmohan Singh to express solidarity with him, who has been summoned by a special court as an accused a coal scam case.
Congress leaders gathered at the party headquarters where Sonia chaired a meeting of the CWC members and party MPs before marching towards 3, Motilal Nehru Marg -- the official residence of Singh.
ALSO READ: Court summons Manmohan Singh as accused in coal scam
Sonia also sent out a loud and clear message in support of Singh. She said, "Manmohan Singh ji is a former PM. He is known not only in our country but the world, he's a man of integrity. We are here to offer our support and solidarity. Congress is fully behind him."
"We are outraged at the news of summons being served to Manmohan Singh ji," Sonia added.
She further said that all legal options will be explored and expressed confidence that justice will be delivered.
ALSO READ: Manmohan Singh facing charges because of Congress' sins: BJP
"We will fight this legally & with all other means at our command. We shall fight this legally and with all our means at our command. We are convinced that he will be vindicated," Sonia said.
Meanwhile, the former prime minister is planning to explore legal ways to appeal against summon issued against him by a special court. Sources today said that Singh is in process of consulting top lawyers seeking options to appeal against summon.
Yesterday, a special court has summoned Singh, industrialist Kumar Mangalam Birla and former coal secretary PC as accused in a coal scam.
The court also summoned M/s Hindalco and its two officials Shubhendu Amitabh and D Bhattacharya.
The court summoned them for offences of criminal conspiracy, breach of trust and under provisions of Prevention of Corruption Act. They have all been asked to appear in court on April 8.
The CBI had in January questioned Manmohan Singh about a coal field in Talabira block that was allotted in 2005 to Hindalco. At the time, the former Prime Minister held direct charge of the Coal Ministry.
The court summoned them for offences of criminal conspiracy, breach of trust and under provisions of Prevention of Corruption Act.
Reacting to the summon, Singh had yesterday said that he was 'upset' but was sure that 'truth will prevail'.
"Of course, I am upset but this is part of life. I have always said I am open for legal scrutiny...I am sure the truth will prevail and I will get a chance to put forward my case with all the facts. I hope in a fair trial I will prove my innocence," he said.
The scam was surfaced in 2012 after CAG questioned the government's practice of awarding coal mining concessions to companies without competitive bidding.
Singh is the first former Prime Minister to have been interrogated in any case.