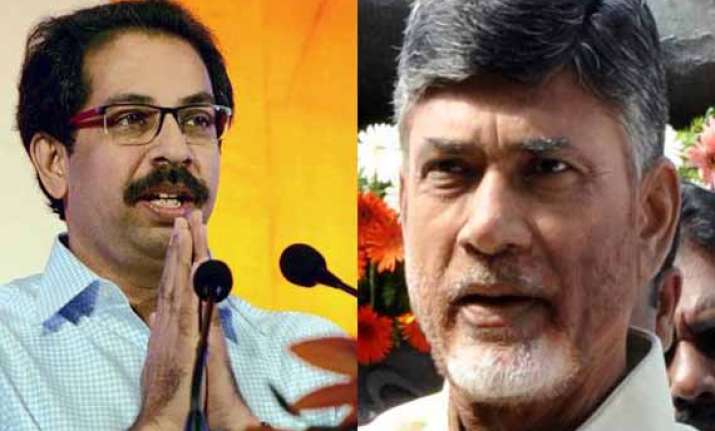 Mumbai: Shiv Sena supremo Uddhav Thackeray today promised Telugu Desam Party chief N Chandrababu Naidu that his party would oppose the Telangana Bill in parliament.
Speaking to reporters after the meeting, Thackeray said, Congress, sitting in Delhi, was playing politics with the people of both Telangana and United Andhra. "Congress is playing a double role. We want to uproot Congress from power", he added.
Chandrababu Naidu said, the bifurcation of Andhra Pradesh was being done without taking the aspirations of the people of both regions into consideration.
Naidu said, from the beginning, Congress started playing politics by promoting TRS, which was ready to merge with Congress after formation after Telangana. Similarly in Rayalaseema and Andhra, Congress went into a secret deal with YSR Congress, by allowing Jagan Mohan Reddy to come out on bail.
"Even if Jagan Mohan gets anti-incumbency votes in non-Telangana area, Congress plans to assimilate his party after the elections. We want to expose this", said Naidu.
Asked about his plans for joining NDA, Naidu said, first we want the bifurcation issue to be settled, and then we will think about joining NDA.
Naidu said, whenever a new state is formed, the Centre has to go through proper procedures. In the past, we had States Reorganisation Commission, and various committes, but on Telangana, the Centre did not take the people of both regions into confidence.
Naidu clarified that the TDP had base both in Telangana and non-Telangana regions, and it wanted that the issue be resolved by taking the people of both regions into confidence.
"The nation has to understand the conspiracy of Congress which is manipulating both the TRS and YSR Congress.
"Thackeray saab (Bal Thackeray) brought the issue of pride of Marathas, while N T Rama Rao brought the issue of self-respect of Telugus. Without consent of the states, the Centre cannot interfere and bifurcate", he added.
In the Bommai judgement  the Supreme Court has clearly said that India is a Union of States, and not the Union of India, Naidu pointed out. Both have to co-exist, he added.