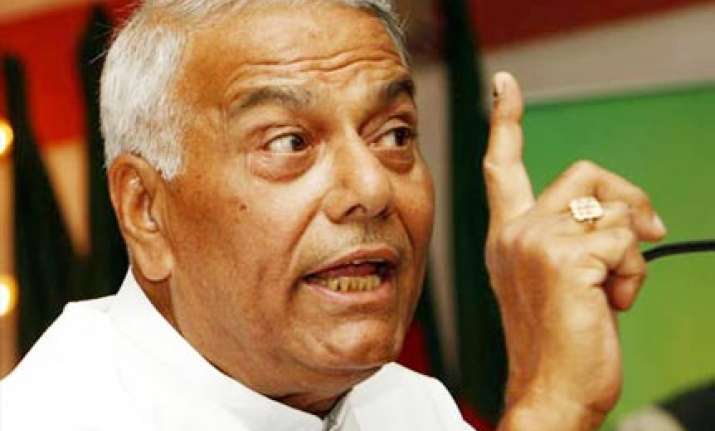 Jamshedpur, June 24: Lambasting the Congress-led UPA government's failure to bring the economy back on the track, senior BJP leader and former Union Finance Minister Yashwant Sinha has said the Centre was suffering from "multi-organ failure".
Reacting to depreciation of Rupee against US dollar, Sinha said, "In fact, the government is suffering from "multi-organ failure".
Speaking on "Country's condition and direction in the prevailing situation" organised by the City-based Jamshedpur Citizen Forum here last night, Sinha expressed apprehension that the depreciation of rupee may touch Rs 70 mark as against US dollar unless urgent steps were taken for its recovery.
Sinha said it was not possible to control inflation unless steps were taken to check fiscal deficit.
Regretting that the Centre was not at all willing to heed to BJP's suggestions to improve the economic condition of the country, the BJP leader said the law of economy was as ruthless as nature but the government was reluctant to listen to our suggestions.
Describing the prevailing growth rate as "jobless growth", the Centre has created only 27 lakh job opportunities during its tenure from 2004-09 against six crore job created by the Atal Bihar Vajpayee-led NDA government between 1999 and 2004.
Led by Vajpayee, BJP had promised to create one crore jobs per year and surpassed the mark during its tenure, he claimed while expressing shock over the tardy development.
Road construction has come to a halt and land acquisition has become a major problem during the UPA government. The Vajpayee-led NDA government did not even had adequate equipment for construction and had to hire it from abroad but succeeded in constructing hundreds of kms of road during its tenure, he said.
Today, we have all modern road construction equipment but the government is able to build only three to four kms of roads per day", he said, adding that corruption has been prevailing in construction of National Highways.
To a query whether the trend of coalition government was responsible for the prevailing corruption in the country, Sinha strongly denied this saying the Manmohan Singh-led UPA government had miserably failed to handle the coalition government.
Criticising the Prime Minister, Sinha said political compulsion alone could not run a coalition government. It needed good leadership to make a coalition government successful, Sinha said and appreciated Atal Bihar Vajpayee, who led the first coalition government in the country successfully.