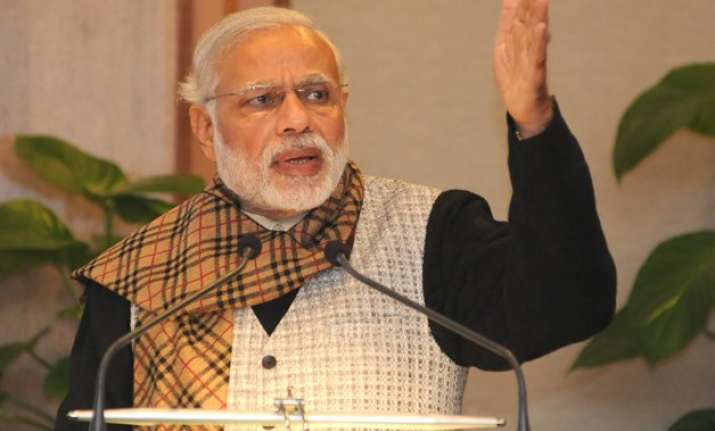 New Delhi: Keen to ensure "transformative change" with focus on improving the lives of people, Prime Minister Narendra Modi on Thursday asked bureaucrats to "break silos" and "get cracking" to deliver results, leveraging their experience.
Modi, who held a 70-minute interaction with Secretaries to the government of India, appreciated the work done by them over the last year and a half.
He said the "vast expertise" of the Secretaries in various domains of the governance, should now be leveraged to bring about "breakthroughs, rather than incremental change", a PMO statement said.
The Prime Minister exhorted Secretaries to come up with ideas for "transformative change" in areas such as good governance, employment generation, education and health, farmer-centric initiatives, innovative budgeting, accelerated inclusive growth, Swachh Bharat and Ganga rejuvenation; and energy efficiency, it added.
He emphasised that in each of these areas, the focus should be on measures which will transformatively improve the lives of people.
Modi laid stress on people's participation in governance, and empowerment of the common man.
Later, Secretary in the Department of Industrial Policy and Promotion (DIPP) Amitabh Kant, who attended the interaction, tweeted, "PM interacts with Secretaries 2 Govt & inspires them 2 focus on governance, break silos, get cracking with implementation & deliver results."
The Secretaries will now interact among each other, in sub-groups over the next two weeks, after which they will present their ideas and suggestions to the Prime Minister, the PMO statement said.
Ministers Arun Jaitley, Rajnath Singh, Sushma Swaraj and Nitin Gadkari were also present at the interaction.
Later, Modi, while bidding goodbye to 2015, said, "The sole focus & priority was, is & will remain development."
In a series of tweets, the Prime Minister said 'Team India' is the cornerstone of the nation's progress and "I salute this Team India for their hardwork & determination.. Sabka Saath, Sabka Vikas...India's diversity is India's strength & enriches the nation in a great way."