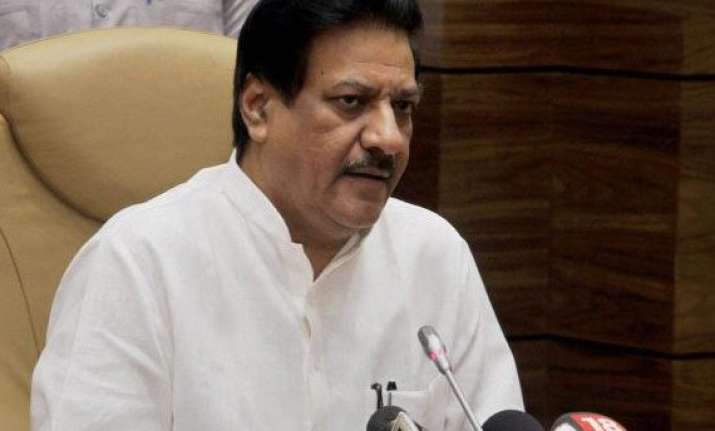 Mumbai: Former Maharashtra Chief Minister Prithviraj Chavan today came under attack from BJP over a newspaper interview in which he was claimed to have said Congress would have been "decimated" had he acted against three of his predecessors under scanner in the Adarsh scam.
"A prominent newspaper has made a sensational claim. It says former Maharashtra Chief Minister Prithviraj Chavan, in an interview, has admitted he was a part of the corruption in Maharashtra and he made compromises in running the state of Maharashtra," BJP general secretary incharge of the state Rajiv Pratap Rudy told a press conference.
"Chavan has accepted that had he acted against former CMs Vilasrao Deshmukh, Sushilkumar Shinde and Ashok Chavan, the party would have been decimated," he said.
Chavan, known for his clean image, had taken over as Chief Minister after Ashok Chavan had got embroiled in the Adarsh scandal.
"I must say that Adarsh brought under scanner Vilasrao Deshmukh, Sushil Shinde and Ashok Chavan--the top Congress leadership in the state. If I had taken action against them, the party would have been decimated in Maharashtra.
"We could not shed them. If I had sent them to jail, it would have hit the party organisation — this was a major response. The party would have split — nobody articulated that openly then. Neither could I," Chavan was claimed to have told the Kolkata-based English daily.
 
Alleging that Chavan had "protected those fit to be sent to jail", Rudy said "Prithviraj Chavan was party to the corruption. This statement is an admission of guilt and corruption. That he ran a corrupt government has been proved by his remarks. He was an accomplice in the crime committed in Maharashtra."
Quoting from the newspaper, the BJP leader said Chavan had maintained that he did not order a judicial inquiry into the multi-crore irrigation scam in which Deputy Chief Minister Ajit Pawar was allegedly involved "as his hands were tied".
"From 1999 onwards Ajit Pawar was the minister concerned. A SIT was set up with members of all parties, including the BJP, but the NCP worked the back channels and ensured that it never investigated anything. It remained a technical and expert committee.
"It was an SIT in name because an SIT has judicial powers to summon and question. I could have been proactive and I could have insisted that it was a judicial commission and that Pawar should be summoned