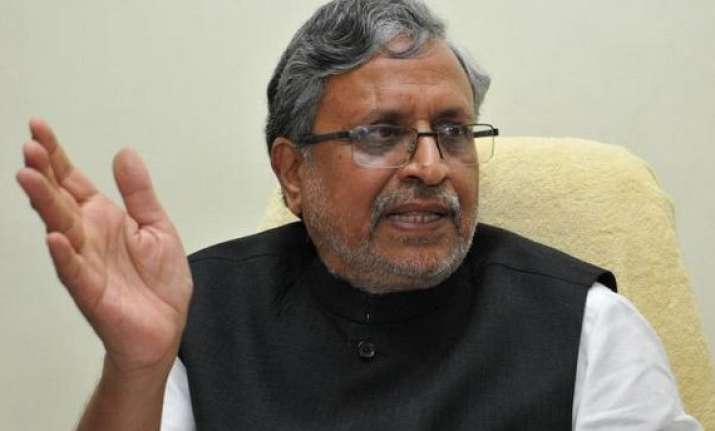 Patna: Opposition BJP today questioned former Chief Minister Nitish Kumar's commitment to the ideals of Jaiprakash Narayan, saying he was in league with the Congress and various 'tainted leaders' like Lalu Prasad and Om Prakash Chautala.
"While sitting in the lap of Lalu Prasad convicted in Rs 1,000 crore fodder scam, Kumar neither remembered JP's honesty nor his principles," senior BJP leader Sushil Kumar Modi said in a statement here today.
Attending JP's birth anniversary celebrations yesterday, Kumar, also senior JD(U) leader, said he had to come for the occasion given his commitment to the ideals of the great leader.
"While campaigning in favour of Indian National Lok Dal (INDL) leader Om Prakash Chautala lodged in Tihar jail for 10 years in the teachers' recruitment scam, Kumar also forget JP's ideology," said Modi who was deputy to Kumar in the NDA regime.
He said when former union minister Ajit Singh was creating pressure on the Centre for converting his ministerial bungalow as memorial of his father Chaudhary Charan Singh, Kumar came in support of the "encroacher."
"Kumar should tell the nation is it justified to stand with tainted leaders like Lalu Prasad, Om Prakash Chautala and Ajit Singh for the sake of opposing Prime Minister Narendra Modi," the senior BJP leader said.
"Kumar, who claims himself as true follower of JP had no hesitation in joining hands with Congress whom JP had ousted from power," Modi, who is leader of opposition in Legislative Council, said.
"Kumar's party is running government in the state with the help of Congress whom he himself in the past described as the source of all corruption and which denied special category status to Bihar during UPA regime," the BJP leader said.