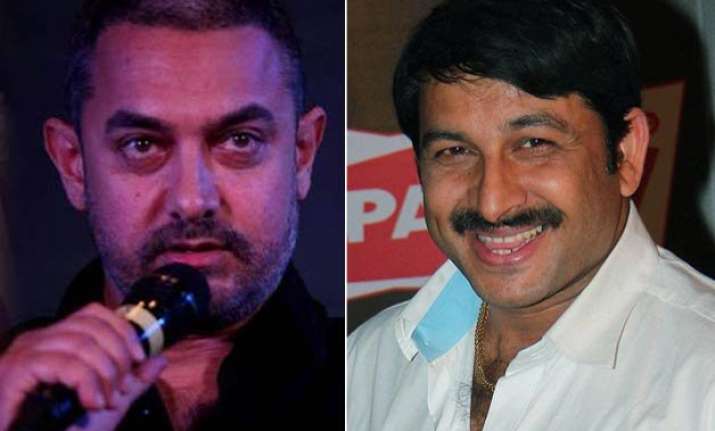 New Delhi: BJP MP Manoj Tiwari has reportedly called Bollywood actor Aamir Khan a 'deshdrohi' (traitor) during a meet of parliamentary standing committee for tourism, culture and transport.
"It is good that Aamir Khan has been taken out of the (Incredible India) campaign. He is a traitor, he should be thrown out," the BJP MP from North East Delhi was quoted as saying in several media reports.
This morning he however denied making such remarks against the 'Mr Perfectionist' saying 'efforts were being made by opponents to tarnish his clean image'.
"Whatever I said in the standing committee is secret. And if the talks of the committee are coming out in public, then it is illegal. I have never used the word 'traitor' for Aamir Khan. I can never say a word like that for him in my entire life," Tiwari said.
Tiwari also said that he will give a notice to the newspapers who have published his false statement.
"I am a responsible citizen and I can never use a word like that. The newspapers are trying to tarnish my image by publishing false news," he said.
Tiwari's remark came amidst controversy over removal of Khan as the brand ambassador of Centre's Incredible India campaign. There are also reports that the Ministry of Tourism was considering appointing veteran actor Amitabh Bachchan as the new brand ambassador of this campaign.
Aamir was made the ambassador for Incredible India in 2009 when the Congress-led government was in power and had continued since the NDA government took power in May 2014.