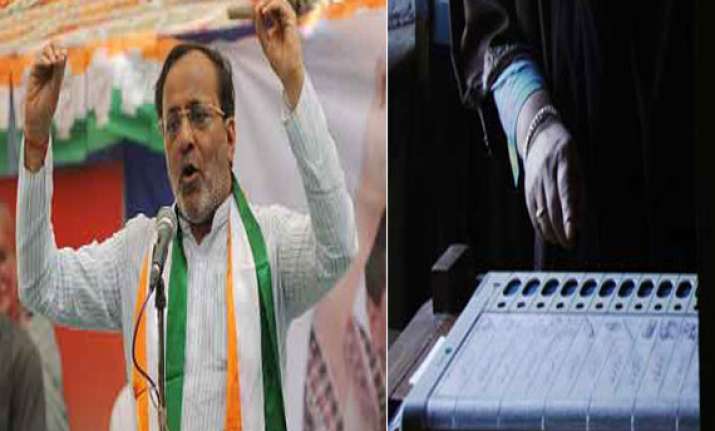 Ahmedabad, Feb 13: Gujarat Congress on Tuesday alleged that the ruling BJP was misusing the state machinery by tinkering with the Electronic Voting Machines (EVMs) in the recently-held municipalities polls.
"The allegations that the BJP indulged in EVM tinkering have been proved by an incident in Bhachau taluka of Kutch district," state Congress chief Arjun Modhwadia said.
There were such complaints against BJP in the past as well, he said.
"BJP party workers in Bhachau had joined the Congress prior to the nagarpalika elections. As BJP was not going to win the polls, they resorted to EVM tinkering," he said.
"EVMs are sealed at polling booths before they reach the centres and are kept in strong rooms. However, BJP party workers conspired with the local administration to break open seals of 14 EVMs before placing it in the strong rooms," he alleged.
"As soon as local Congress workers came to know of the incident, they reached the spot and videographed the broken seals of EVMs and informed the State Election Commission (SEC) officials about the matter. They demanded that a police complaint was immediately lodged into the incident and a probe should be carried out," he said.
The SEC intervened and initiated investigation into the matter. Congress has demanded that probe should be completed immediately and counting of votes should be resumed as soon as possible, he said.
"We also demand that SEC should conduct a technical investigation into EVM tinkering by the BJP during elections," he said.
Meanwhile, on the water crisis in Saurashtra and North Gujarat, Modhwadia asked the state government to come out with a white paper on drinking water problems of Gujarat.
On the death of 25 cows in Kutch because of paucity of water availability, he said that there were three droughts in 1985, 1986 and 1987 when the Congress was in power but it did not allow a single cow to die because of lack of availability of water.