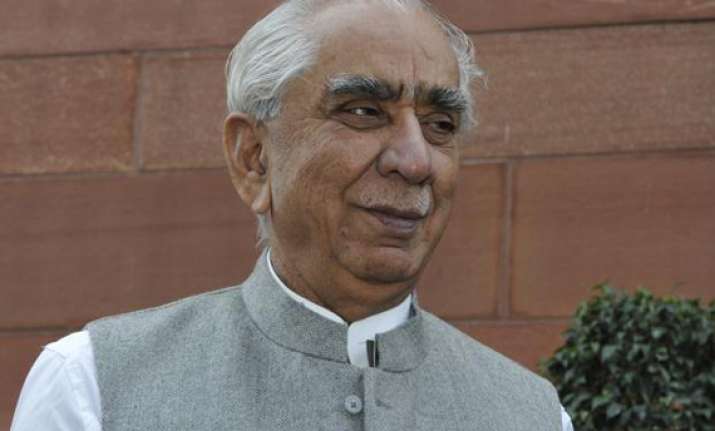 New Delhi/Jodhpur:  Annoyed at not being considered from Rajasthan's Barmer constituency, senior BJP leader Jaswant Singh Saturday said the party was being encroached by outsiders.
Sources close to Jaswant Singh said he may resign from the Bharatiya Janata Party soon, even as party members continued efforts to pacify him.
Without naming any one, Jaswant Singh, one of the founders of the BJP, said outsiders have encroached the party.
"There is an encroachment on the BJP. It is overtaking the nature and character of the party. It's so unfortunate that the party has been completely taken over by outsiders, who never have had any respect of the party's ideology," he told reporters in Jodhpur.
"The BJP is now divided into two factions, one which is real and the other is fake. But unfortunately, the fake faction has the reins of the party now," he said.
Sources close to Jaswant Singh said he may resign from the party soon and is likely to contest the Lok Sabha elections as an Independent candidate from Barmer.
The former defence and external affairs minister is slated to visit Barmer in a couple of days and seek feedback from supporters before filing his nomination papers.
"Everything will be decided only after I reach Barmer and have a discussion with my supporters," he said.
A close associate of former prime minister Atal Bihari Vajpayee as well as senior BJP leader L.K. Advani, Jaswant Singh said the BJP needed to reflect on this.
BJP president Rajnath Singh, however, said Jaswant Singh's stature could not be measured in a ticket.
"Jaswant Singh is a senior leader of the party. We respect him a lot. His stature cannot be measured in a ticket," Rajnath Singh said.