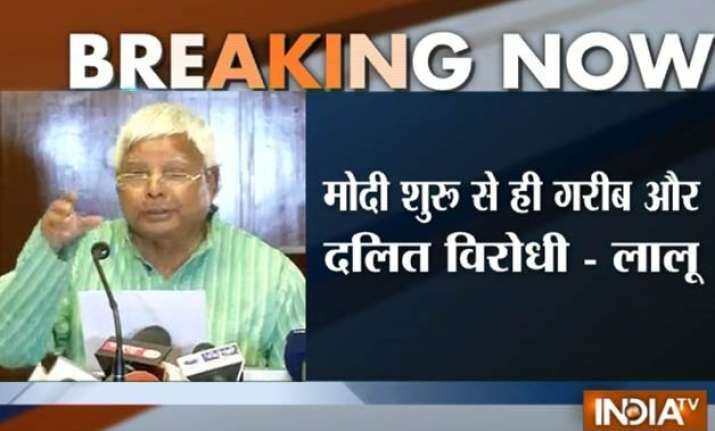 Patna: Rashtriya Janata Dal (RJD) chief Lalu Prasad Yadav today questioned Prime Minister Narendra Modi's silence on the issue of reservation for Dalits and OBCs.
"Why has Modi remained silent on the reservation issue after the RSS chief demanded to end it. He should have either condemned the statement or provided a clarification on his stand," Lalu said.
Lalu said if Modi is not in support of reservation, he is a 'nakli' (fake) OBC.
He said reservation should be in proportion to the population of Dalits and OBCs.
"We are looking for an increase in reservation and Rashtriya Swayamsevak Sangh (RSS) is conspiring to end it, we will not allow it," he said.
Lalu also targeted Bharatiya Janata Party (BJP) president Amit Shah saying, "He is dreaming of becoming Prime Minister by pushing back Modi."
He described the RSS as a factory which produces and spreads hate in the country.
"The RSS agenda is to keep Dalits and OBCs as slaves," Lalu said.
Lalu also questioned the BJP's development agenda in the polls.
"Why has BJP promised to distribute TVs, laptops and scooties if the party is sure of development. BJP is trying to bribe people for votes," he said.
He cautioned people that Modi has betrayed the people by failing to fulfil any of the promises he made during the last Lok Sabha polls.
"BJP has been using money power in Bihar polls like never before. The party has deployed dozens of choppers, hundreds of its leaders have booked costly hotel rooms," hew said.
Bihar will have five-phase assembly elections between October 12 and November 5 and counting of votes will take place on November 8.