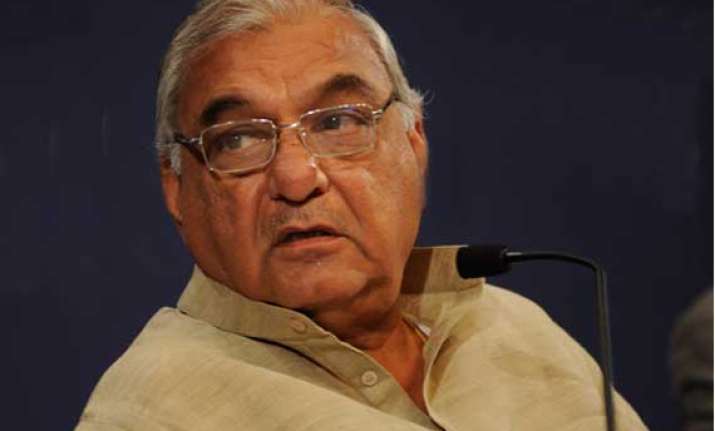 Chandigarh: Claiming that people were feeling "dejected" as the "true face" of the BJP-led Central government has been unmasked, Haryana Chief Minister Bhupinder Singh Hooda today exuded confidence that the Congress will form the government in the state for the third time in a row.
"An atmosphere was created in favour of one person (referring to Narendra Modi) in the country ahead of Lok Sabha polls as if he had a magic wand and would solve all issues, including inflation, but now in less than two months the people are feeling dejected and cheated as the true face of the BJP Government stands exposed," Hooda said addressing a public meeting in Julana in Jind district.  
Attacking the BJP led Government, he said that the NDA had allegedly failed to contain inflation as was projected ahead of Lok Sabha polls by its the then Prime Ministerial candidate Narendra Modi.
"In less than two months of coming to power, the BJP led regime has burdened the people with price rise of various commodities.
The people of the country as well as of Haryana are feeling cheated as no concrete steps have been taken to contain inflation as was promised before the Lok Sabha polls," he said.
Hooda said the steps which the BJP led government had taken during past month have exposed its "hollow claims" of "good days ahead".