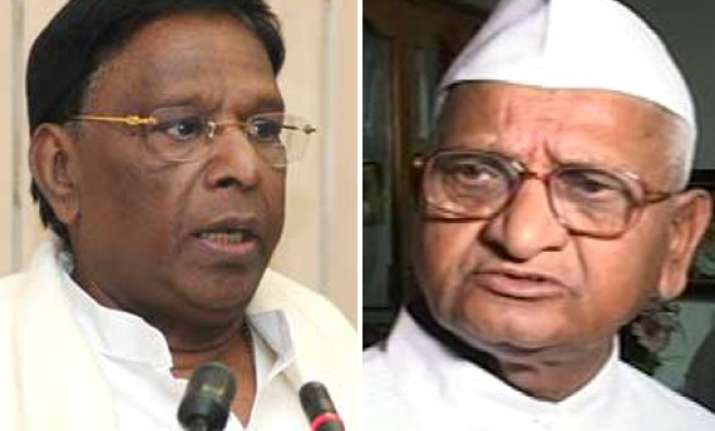 Chennai, Jun 9: Launching a vitriolic attack on Team Anna, Union Minister V Narayanasamy today charged that Anna Hazare was surrounded by "anti-national elements" and those supported by "foreign forces".
"Anna is a simple man, but he is surrounded by anti-national elements and people who have been supported by foreign forces," the minister of state in PMO told reporters at Chennai airport.
He criticised Team Anna members Arvind Kejriwal and Kiran Bedi, seeking to know "what happened to the huge sums of money collected during last year's (anti-corruption) agitation." "Bedi herself was facing some allegations (over bloated travel receipts), he said.
Narayanasamy alleged that a set of "self proclaimed" leaders with no public support and those who had not faced elections wanted to destabilise the government, targeting Team Anna and Yoga guru Ramdev, who have teamed up to launch a fresh offensive against government on corruption and black money.
He insisted the Centre was taking all steps to bring back black money and had come out with a white paper recently.
Its a "long process" since it involved working with the governments of the respective countries and certain other procedures, he said and questioned the reputation of Ramdev and other Team Anna members.
On allegations of irregularities of coal mining blocks, he said the Manmohan Singh-led government was "transparent".
"Our government is transparent. The Prime Minister wanted to have a transparent form of coal block allocation in 2004."
He alleged there was no transparency during the NDA regime and claimed the then BJP Chief Ministers Vasundhara Raje (Rajasthan) and Raman Singh (Chattisgarh), besides the West Bengal government, had opposed the government decision to auction coal blocks.
Bids were invited based on advertisements and the Prime Minister was not to be blamed as he had followed a transparent method, he said, adding CBI was looking into the matter.  The allegations regarding the PMO are "politically motivated," he said.
Narayanasamy also slammed Tamil Nadu Chief Minister Jayalalithaa's demand for resignation of Home Minister P Chidambaram in the wake of a case concerning his election from Sivaganga in 2009 and said his cabinet colleague was being targeted.
Jayalalithaa had said that Chidambaram's continuance was a "blot on democracy" and had demanded that he either resign or be sacked by the Prime Minister.