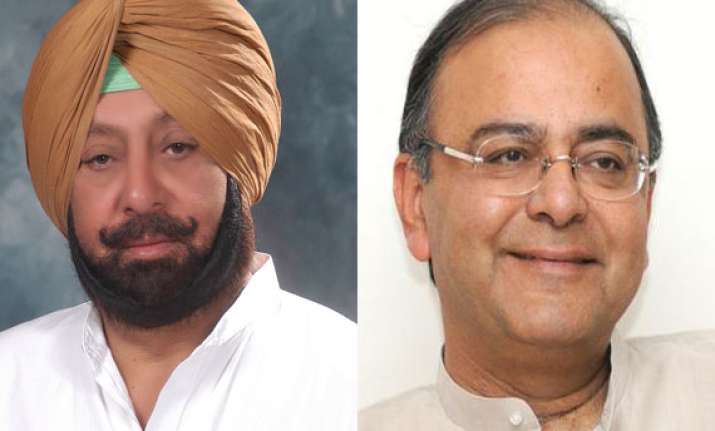 Amritsar: Senior BJP leader and candidate for Amritsar Lok Sabha seat Arun Jaitley today took a dig at his rival Congress' Amarinder Singh, saying he lacked vision for Amritsar development and has not spoken a word about what he did for Punjab when he was the Chief Minister.  
"Capt Amarinder has not spoken a word on what he did for Punjab during his tenure as Chief Minister. As a former Member of Parliament and as a legislator in Punjab, he has not a single credible speech to boast of.
"He has no vision on development of Amritsar. He has not uttered a word regarding what he will do for Amritsar. He can't even tell the people that he will be accessible. His track record of accessibility is poor," Jaitley said in a statement issued here.
He alleged that Amarinder was representing the party which had been the most corrupt.
"...he represents a party which provided India with the most corrupt central government in history. He then questions others on probity while he is being prosecuted under the Prevention of Corruption Act and he advocates stringent punishment for the corrupt," Jaitley said.  Taking a jibe at Amarinder, who is popularly known as 'Captain', Jaitley said, "...eventually democracy has its own way. It will never accept a discredited Captain of a sinking ship."
"Committed politicians need to be obsessed. It is their own choice whether they can be obsessed about their ideological and developmental issues or about themselves," BJP candidate said.
"Amarinder questionably falls in the latter category. He creates fake propaganda and then buys the same himself. He relishes in his own image where he believes that he is a monarch in a democracy," Jaitley said.