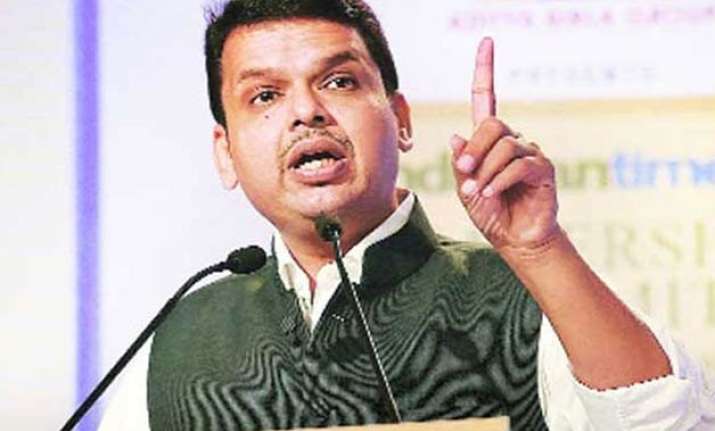 Mumbai: After its public spat with Shiv Sena, the BJP today steered clear of discussing about ties with the saffron ally at a meeting of party legislators and functionaries where it chose "only" to deliberate upon the achievements of the Fadnavis government over the last year.
Several top BJP leaders had said ahead of the meeting yesterday that the worsening relations with the Sena, which is part of the ruling coalition in Maharashtra, were likely to come up for discussion.
A senior leader had gone to the extent of saying that the meeting would discuss the probability of snapping ties with the Sena, which had on Tuesday said BJP was free to opt out of the coalition if it was bored of its brand of "nationalism" and "patriotism", raising questions about the continuance of the party in the state government.
However, no such thing happened today and BJP spokesman Madhav Bhandari said," The meeting was only held to discuss various achievements of the state government and how do we put them in front of the people. There was no mention of the Shiv Sena anywhere in the meeting."
"Last year we won elections on October 19 and took oath on the 31st. Hence, we have decided to hold various programmes from October 19 to 31 wherein we will interact with people and tell them what the government has done," he said.
Relations between the two saffron allies have come under renewed strain after Shiv Sainiks blackened the face of Sudheendra Kulkarni, a former BJP strategist and organiser of Pakistan's former foreign Minister Khurshid Mahmud Kasuri's book launch event on Monday.
Chief Minister Devendra Fadnavis had voiced serious displeasure over the incident and said the state would not be allowed to be reduced to a "banana republic".
Amid the growing unease in their ties, Shiv Sena had, in a snide remark yesterday, sought to remind Prime Minister Narendra Modi of his Godhra past after he termed as "unfortunate" the Dadri lynching incident and cancellation of Pakistani ghazal singer Ghulam Ali's concert in Mumbai following Shiv Sena's threat of disrupting it.
In wry comments that would have riled BJP, Sena MP Sanjay Raut had said Modi,"is known and respected due to Godhra and Ahmedabad."
"The world knows Narendra Modi due to Godhra and Ahmedabad and we respect him for the same reason. If the same Narendra Modi has called the controversy surrounding Ghulam Ali and (former Pakistan minister) Khurshid Kasuri unfortunate, then it is indeed unfortunate for all of us," Raut said.
The 2002 Gujarat riots have been a sore point in Modi's otherwise remarkable political career and any reference to it when his government is facing criticism for a spate of writers and intellectuals returning their awards over growing "religious intolerance" would not have gone down well with BJP.
However, when the Maharashtra BJP leaders went into a huddle, they skipped any talk about its fractious partner and "purely discussed" the achievements of the Fadnavis government.
Bhandari said party leaders and elected representatives will hold programmes at divisional, district and taluka levels to inform people about various initiatives taken by the government for public welfare.
"Different wings of the party, like the youth wing and women's wing, will also hold separate unique programmes. The idea is to ensure that we interact with the maximum number of people. Social media cell will also take part in 'Lok Samvad' (interactive sessions)," he said.