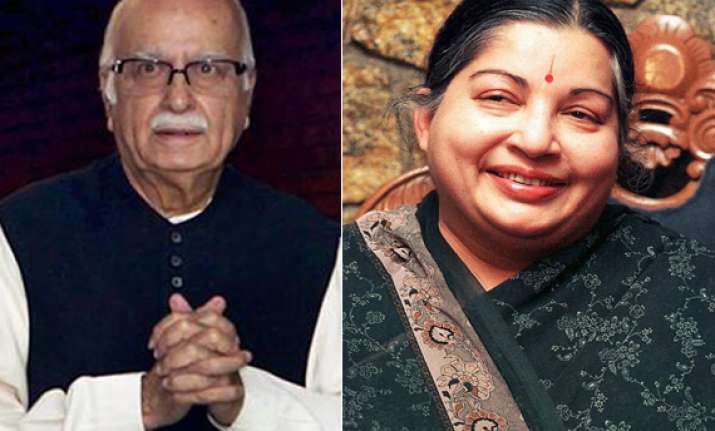 Chennai, June 14: NDA Working Chairperson L K Advani today met Tamil Nadu Chief Minister J Jayalalithaa here today to discuss fresh developments in the run-up to Presidential election and they agreed to "coordinate" with each other on their strategy.
"We discussed the presidential election at length. What are the prospects and possibilities. The NDA is meeting (in Delhi) tomorrow to discuss the situation as it is till now," he said.
He indicated that the NDA may decide tomorrow to wait till the UPA declares its presidential candidate and then announce its strategy.
"I mentioned this to Jayalalithaa. We said it would be proper if we keep in touch with each other and coordinate our approach to this presidential election," Advani said told reporters here after his meeting with the Chief Minister.  
The BJP leader said that Jayalalithaa had phoned him a few days back to convey to him that she and Odisha Chief Minister Navin Patnaik have decided to support NCP leader P A Sangma.
"Mr Sangma also met me two days back. All these issues we discussed (today)," Advani said, without clarifying if the NDA would support Sangma.
"We will continue to be in touch with each other and coordinate our efforts," Advani said.
Asked about names that were discussed as possible candidates during his meeting with Jayalalithaa, Advani said, "All names figured. What I have said doesn't need any elaboration. Her position is that we will coordinate with all parties. The decision on who will be president will be taken properly."
Advani also hit out at the UPA government for the present situation.
"I have never seen any earlier government handling an important election like the presidential election so clumsily and in such a manner that its situation gets worse day-by-day.
 "But, so far as we are concerned, we are conscious that the Congress and the UPA have not been able to create a consensus on a presidential candidate even within its own camp," he said.