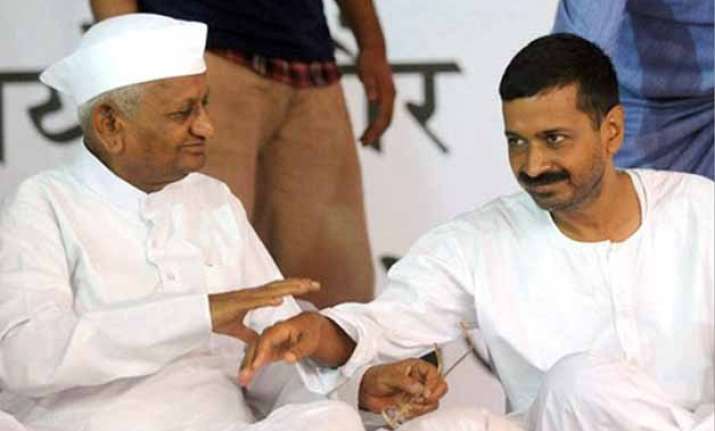 New Delhi: The Aam Aadmi Party (AAP) will join social-activist Anna Hazare's two-day long protest beginning today at Jantar Mantar against the recent amendments in the Land Acquisition Act by the Centre.
AAP volunteers will join Anna Hazare's protest at Jantar Mantar, a party leader said.
"Will join protest led by Anna Hazare in personal capacity," said AAP leader Kumar Vishwas.
Yesterday, the Gandhian activists had said that Delhi Chief Minister Arvind Kejriwal can join the movement and that he will meet his former 'Team' member in evening on the first day of his protest.
ALSO READ: 5000 farmers led by Anna Hazare marching to Delhi
"I have spoken to Arvind Kejriwal... if he wants to contribute to the movement they are welcome. I am going to meet him on February 23. If all agree, will welcome Arvind Kejriwal on stage as Delhi chief minister," he told a news channel.
The Gandhian activist, who launched a massive anti-corruption agitation which shook the then UPA government, is holding the protest to demand the withdrawal of the anti-farmer amendments to the Land Acquisition Act, 2013.
When asked about Congress extending its support to his dharna, Anna said, "Political parties manipulate such situations against each other."
On Rahul Gandhi he said, "If Rahul Gandhi wants to come.. he can but he will have to sit within the common people."
Earlier on Friday, a group of farmers began marching from Palwal in Haryana. They will join Anna at Jantar Mantar on tomorrow.