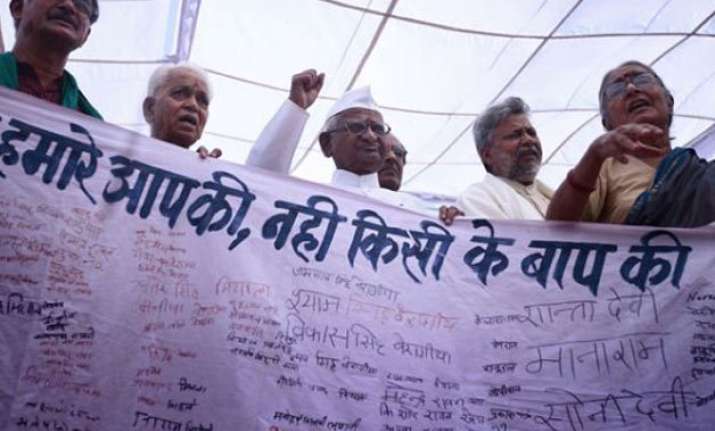 New Delhi: Flagged off by social activist Anna Hazare, a march of around 5000 farmers has begun from Haryana today. Over the next four days, they will be walking to Jantar Mantar in Delhi against the NDA government to assert their rights over lands that is also their livelihood.
The march under the banner of PV Rajagopal's Ekta Parishad saw many well-known names like Medha Patkar, Dr Sunilam and RSS ideologue KN Govindacharya.
It is likely that the opposition parties would also unite in Parliament against the government over the land acquisition ordinance which has come with the provision to acquire land for industrial corridors and compensations at the market rate.
Apparently, Patkar, Rajagopal and Sunilam were members of the Anna Hazare's India Against Corruption (IAC) core committee while Govindacharya had been behind the scenes player in the anti-corruption agitation that brought Hazare into limielight and launched the political careers of Arvind Kejriwal and Kiran Bedi.
On the other hand, saffron elements like Ramdev and Sri Sri Ravishankar have long back dissociated from the party while drifting towards NDA government.
As published in a report by Indian Express, Govindacharya said, "This is India Against Corruption minus Arvind Kejriwal and Ramdev, but where IAC was targeted at the urban middle class, this is pro-poor, pro-villages. We had been pushing for amendments to the 2013 land acquisition Bill and now that there is an ordinance that also needs amendments… There is no bar on political parties joining but they cannot join as an organization, they should be here as individuals."
 Patkar further added, "Corruption is not just about spectrum. There is immense corruption in allotment of land. This is the politics of the people; politics is not just about elections. We have not sat down with political parties but they have extended their support."
As the procession moved out of Palwal, little support was seen from the commoners. There were not much people with Anna Hazare while he left Ralegan Siddhi after attacking the NDA government.
One Dinesh Dubey from Varanasi is happy about his association with the motley group however, doesn't confide much in the government.
He says that government has taken away land between Varanasi and Bhadohi near a village called Kacchuabhoj saying that they will do some irrigation project however he feels that in some or other way it will find a way to set up industries there instead. He says, he does not want that and hence he joined the agitation.