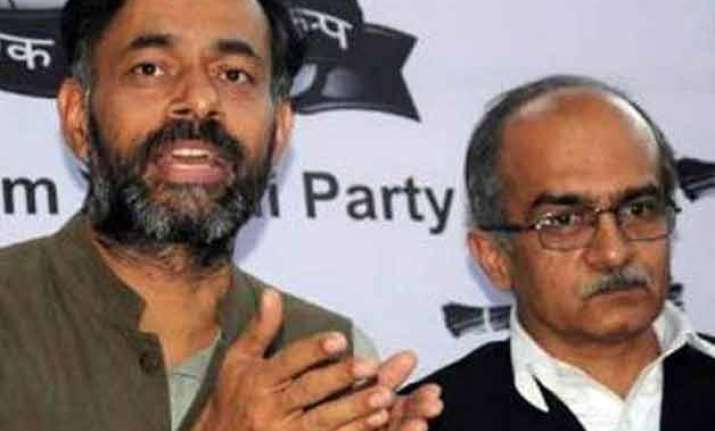 New Delhi: Rebel AAP leaders Yogendra Yadav and Prashant Bhushan held a meeting with their supporters to discuss their future course of action in New Delhi on Sunday, a day after the duo were removed from the party's National Executive.
"It was an exercise before making any big announcement," a close aide of Yadav said. He said the deliberations largely revolved around future options before the leaders and those who did not agree with the ways of Delhi Chief Minister Arvind Kejriwal and his team.
Read More: AAP appoints news Lokpal panel, drops Prashant Bhushan from disciplinary panel
The aide said the Yadav-Bhushan camp plans to reach out to volunteers across the country and "spread" the message that its "rival camp" was unwilling to implement the long-pending issues of "internal democracy" and "swaraj" in the party.
He said AAP volunteers and members who supported the stand of Yadav and Bhushan shared their sentiments over the removal of Bhushan, who was party's disciplinary committee chief, and internal Lokpal Admiral L Ramdas from their posts.
Speaking to reporters later, Yadav termed the removal of Ramdas as AAP internal Lokpal as "unfortunate".
"The National Executive was not empowered to take the decision of removing the Lokpal. It was the existing Lokpal who could make such a decision," he said.
After their ouster at the National Council meeting yesterday, both Yadav and Bhushan have been holding meetings with their supporters. Terming their removal from the National Executive as "unconstitutional and illegal", Yadav and Bhushan did not rule out taking legal recourse against their removal.