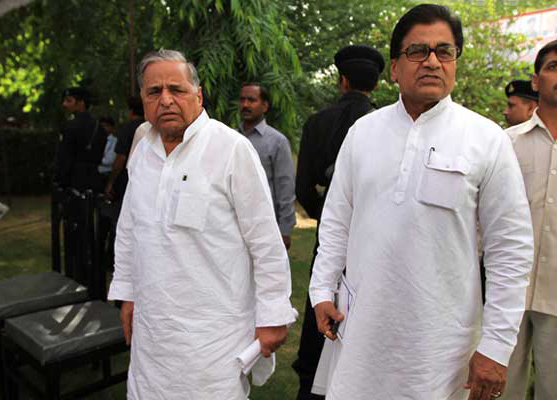 Amid the ongoing tussle in the Samajwadi Party, senior leader Ram Gopal Yadav has written to his cousin Mulayam Singh Yadav, cautioning him that he as the party supremeo would be held responsible if the party fails to win even 100 seats in the forthcoming Uttar Pradesh assembly election. 
The party general secretary has demanded that current Chief Minister Akhilesh Yadav should be made SP's CM face, a day after Mulayam said that MLAs and parliamentary board would select the next CM after the elections. 
Hailing Akhilesh for his development work in the state, Ram Gopal said, "The works done by the present government of Uttar Pradesh are example for the country," adding that the Chief Minister was the most popular leader in the state. 
"Whatever has happened for the last few days has disappointed supporters of the party which has given rise to resentment against the party leadership," Ram Gopal Yadav said in the hard-hitting letter.   
Starting the letter with an emotional pitch recalling how Mulayam established the party with his hard work, Ram Gopal Yadav went on to say, "It pains people that the party which was at number one position has now slipped down because of wrong advises of selected leaders. People advising you nowadays have no standing in the eyes of people." 
"Party is free to give tickets to whomever it wants. But only people of stature will win the election. And the party will only win if Akhilesh Yadav is its face," Rajya Sabha MP said. 
He added, "If you want party to win less than 100 seats then you are free to decide. But you must remember one thing, the public which worships you now for forming the Samajwadi Party will blame only you for the fall of the party. History is very cruel, it does not spare anyone."
According to reports, Mulayam rushed over to Ram Gopal's residence in Delhi as soon as he received the letter. The two believed to have discussed the issues in a three-hour meeting. 
When Mulayam received this letter in Delhi, he immediately rushed to Ram Gopal's residence and the two got closeted for over three hours to sort out their differences.
Mulayam Singh Yadav had on Friday remarked that "Chief Minister will be decided by the elected party legislators and parliamentary board. This is our job. This is not your (media) work." 
Akhilesh on Saturday said that his father must have said it after giving it due consideration. 
"Netaji is the most experienced leader of the country and state, if he has given any statement he must have said it after giving it due consideration...I had said in the assembly that I will present the next budget....Samajwadi Party will form its government after the next polls," he said yesterday.