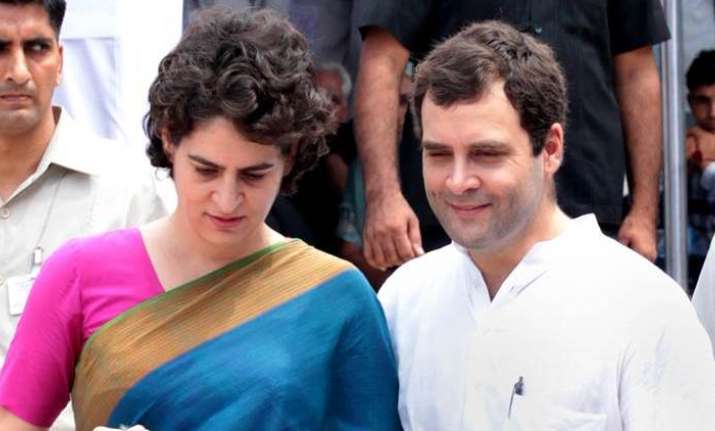 Congress Vice-President Rahul Gandhi has said that he is willing to see his younger sister Priyanka taking a role in active politics but added that the decision entirely rests with her.
"I trust my sister more than anybody else. I'd like her to be actively involved in politics, but it's up to her to decide when, how and if she wants to do it," Gandhi told Times of India.
When asked about Poll strategist Prashant Kishore's role in his party, Gandhi said "The party strategy is devised by Congress leaders. Prashant operationalises campaigns, manages part of the logistics and provides inputs. The Congress has a well-established system of distributing tickets. That is the system that will be put to use."
Gandhi also referred to Prime Minister Narendra Modi as a "selfie-taking, false promise-making machine and accused him of being 'insensitive' to farmers' need.
Earlier  addressing a gathering during a road show here as part of his ongoing 'Deoria to Dilli kisan yatra', Rahul said, "Narendra Modi made different promises...of Rs 15 lakh in bank accounts of the people, fair price for farmers, employment to two crore and many others... He is a machine that takes selfies and makes promises." 
He also predicted that saffron brigade may try to stoke communal flares ahead of UP polls, saying "because the BJP-RSS combine is capable of dishing out nothing but violence and hate."
Accusing Modi of spreading communal disharmony among the people, Gandhi said, "Modi's core competence is to create hatred among citizens.... Hindu, Muslim, Sikh and Christians were living peacefully in the country." 
He also took potshots at BJP for dubbing Congress 'idea of laon waiver as bad  habit' and said that Rs 1.10 lakh crore waiver for a handful of industrialists is a bad habit too. 
He alleged 'achhe din' have come but only for the Prime Minister and his 12-15 industrialist friends, while the weak and poor suffer due to riots.
"Despite all this, he(Modi) says he will bring development...yes, he will do it and bring achhe din but it will only be for himself and his 12 to 15 industrialist friends," he said.
"The weak and poor will suffer as there will be riots and fights...and the country which has to progress will lag behind," Rahul said, adding, Congress and its leaders will not allow this to happen as this country belongs to everyone, all religions, all castes and every poor.