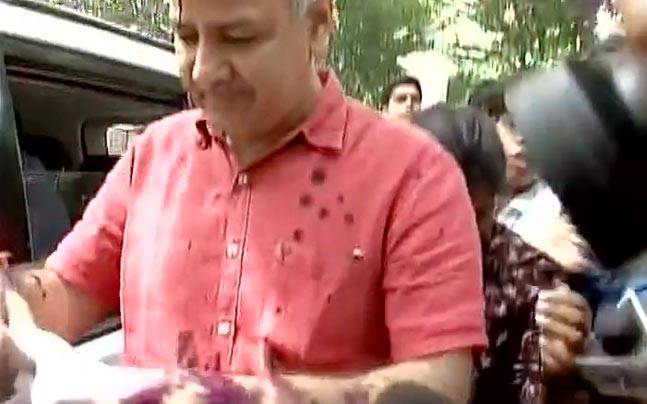 Delhi's deputy chief minister Manish Sisodia, who returned from Finland after a terse letter by Lieutenant Governor Najeeb Jung asking him to cut short his educational tour and return to Delhi to deal with the health crisis, today had ink thrown on him outside the LG's office. 
#WATCH: Man throws Ink at Manish Sisodia in Delhi, says Sisodia goes abroad but people of Delhi are left suffering. pic.twitter.com/0T9fUvoGk5

— ANI (@ANI) September 19, 2016
Sisodia had reached the LG's office to meet the LG upon his return from Finland this morning. He was speaking to reporters outside the LG House when a man, identified as Brijesh Shukla threw ink at the deputy CM. 
Delhi: Ink thrown at Deputy CM Manish Sisodia outside LG office pic.twitter.com/C4uqtVYC9B

— ANI (@ANI) September 19, 2016
The man, who was taken into custody immediately, said he was upset with Sisodia's foreign trip while the capital was facing the onslaught of dengue and chikungunya. 
"He is roaming around on taxpayers' money when people of Delhi are suffering. It is our money. This is wrong," Shukle told reporters before being taken into custody. 
Sisodia just returned from a trip to Finland a day before his scheduled return. The AAP government has been facing flak for the absence of its leaders at the height of the dengue and chikungunya crisis. 
The deputy chief minister, on the other hand, blamed the opposition parties for the attack.