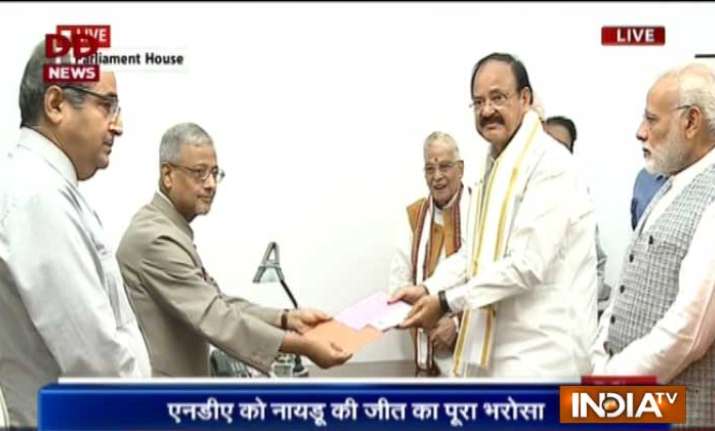 BJP's vice-presidential candidate Muppavarapu Venkaiah Naidu today filed his nomination paper in presence of Prime Minister Narendra Modi, BJP President Amit Shah, BJP patriarch L K Advani, Murali Manohar Joshi and other senior leaders of NDA.
Before filing his nomination papers, Venkaiah Naidu visited veteran BJP leaders L.K. Advani and Murali Manohar Joshi at their residences this morning and sought their blessings.
After filing his nomination papers, Venkaiah Naidu said that he was honoured to be the vice presidential candidate. Expressing his gratitude to Prime Minister Narendra Modi for making him the VP candidate, Naidu said that he hoped to do justice to his new role.
" Am honored to be a candidate for Vice President of India. I have been actively engaged in public life for over four decades. Office of Vice President is a different profile, has its functional norms. Hope I will be able to do justice,"  Venkaiah Naidu said.
After filing his papers, Venkaiah Naidu also resigned from the primary membership of the BJP and said that now, he does not belong to any party.
Naidu is contesting against Gopalkrishna Gandhi, the grandson of Mahatma Gandhi, the nominee of 18 opposition parties led by Indian National Congress. 
On Monday, BJP President Amit Shah announced that M Venkaiah Naidu will be the vice presidential candidate of the National Democratic Alliance (NDA).
Political observers believe that the BJP  has picked M Venkaiah Naidu for Vice President post as part of the party's strategy to strengthen its base in southern parts of India. 
Since the Vice President is elected by members of the two Houses of the Parliament, M Venkaiah Naidu is expected to easily win the contest in view of the NDA commanding brute majority in the Lok Sabha.
The electoral college for vice presidential election consists of 790 members of Lok Sabha and Rajya Sabha.
With the support of 406 members, NDA candidate Venkaiah Naidu is all set to take over as the next Vice President of India.
If elected, Venkaiah Naidu will become the third Telugu person to occupy the key constitutional post, joining the distinguished list that includes Sarvepalli Radhakrishnan and V. V. Giri.
Born in Chavatapalem in Nellore district of Andhra Pradesh on July 1, 1949, Venkaiah Naidu appears set to be elected as the next Vice President given the NDA's strength in parliament, which forms the electoral college.
Radhakrishnan was the country's first Vice President. He held the post for two terms between 1952 and 1962 while Varahagiri Venkata Giri, popularly known as V. V. Giri was the Vice-President from 1967 to 1969.
Interestingly both Radhakrishnan and Giri went on to become the President.
Radhakrishnan, a philosopher and statesman was born into a Telugu family in a village near Thiruttani in the erstwhile Madras Presidency. Giri, a freedom fighter, was born in Telugu family in Berhampur, Odisha.
In 1977, another Telugu personality Neelam Sanjiva Reddy was elected as the President of India.
Venkaiah Naidu as the BJP leader had supported the bifurcation of Andhra Pradesh in 2014. As a Union Minister over last three years, he has been representing the interests of both Telugu states of Andhra Pradesh and Telangana.
If elected Vice President, Naidu will also be the ex officio Chairman of the Rajya Sabha where the BJP still lacks a majority. With friends across parties and his amiable nature, Naidu is expected to steer the proceedings in the upper house through possible turbulence.