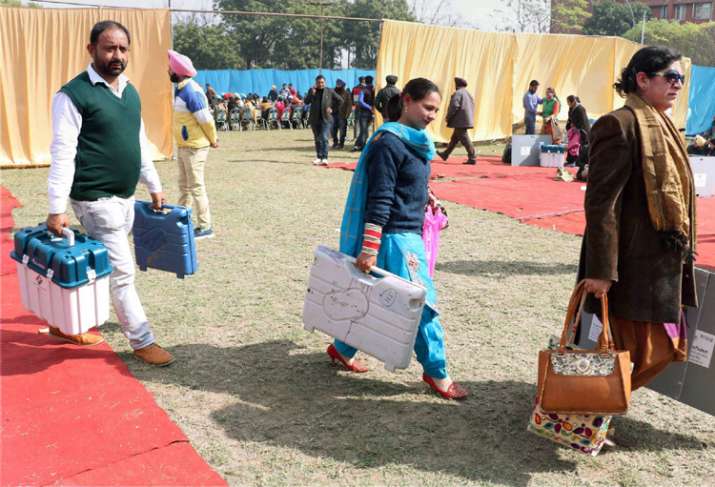 A total of 91 out of 637 candidates contesting the Uttarakhand Assembly election have declared that they have criminal cases against them, a latest report has said.  
Out of these 91 candidates, 54 have declared serious criminal cases, a report released by the New Delhi-based Association for Democratic Reforms (ADR) said. 
"19 from the BJP, 17 from the Congress, 7 from the BSP, 4 from the UKD, 2 from the SP and 32 independent candidates have declared criminal cases against themselves in their affidavits," ADR said. 
The report said that a total of 200 crorepati candidates are in the fray for the Assembly elections in the hill state — to be held on February 15.  
"Out of the 637 candidates analysed, 200 (31 per cent) are crorepatis," the ADR report said. 
Party-wise, 52 out of the total 70 fielded by the Congress are crorepati candidates, whereas it reads 48 (70) for the Bharatiya Janata Party (BJP), 19 (69) for the Bahujan Samaj Party (BSP), 13 (55) for the Uttarakhand Kranti Dal (UKD), 4 (20) for the Samajwadi Party (SP) and 53 (261) independents, who have declared their assets worth more than Rs 1 crore, it said. 
The average asset per such candidates is Rs 1.57 crore. A total of 78 candidates have not furnished their PAN details, the report noted. 
ADR said seven candidates have declared a total annual income of more than Rs 1 crore. Independent Mohan Prasad Kala topped the chart with a total income of over Rs 16 crore followed by Chief Minister Harish Rawat (over Rs 2 crore) as declared in income tax returns (ITR). 
The top three candidates with highest assets are Satpal Maharaj of the BJP with a total figure of over Rs 80 crore, followed by Mohan Prasad Kala, an independent (over Rs 75 crore), and Shailendra Mohan Singhal also from the BJP (over Rs 35 crore). 
Rawat has more than Rs 6 crore of assets, it added. 
Uttarakhand Election Watch and ADR have analysed the self-sworn affidavits of all 637 candidates from 34 political parties, including 6 national, 4 state, 24 unrecognised parties and 261 independent candidates, who are in the fray. 
Out of 71 sitting MLAs, 60 are re-contesting in the 2017 Assembly Elections. The analysis of their affidavits filed in 2012 and 2017 has revealed a picture of how their wealth has grown in the past five years.  
Average assets of these 60 MLAs has almost doubled in the last five years, their affidavits reveal.  
The average assets of these 60 re-contesting MLAs from various parties including independent MLAs in in 2012 was Rs 1.85 crores (Rs 1,85,41,331) which in 2017 has increased to Rs 3.62 crores (Rs. 3,62,66,619). 
The average assets of these 60 re- contesting MLAs, between the Uttarakhand Elections of 2012 and 2017 has increased by Rs. 1.77 crores (Rs. 1,77,25,289) or 96 per cent. 
On education details of candidates, it said 256 have declared their educational qualification to be between 5th pass and 12th pass while 340 have declared to be a graduate or above. 
As many as 393 candidates have put their age at 25-50 years while 238 have declared it to be 51-80 years. 
According to the report, 56 women candidates are contesting the Uttarakhand assembly election.