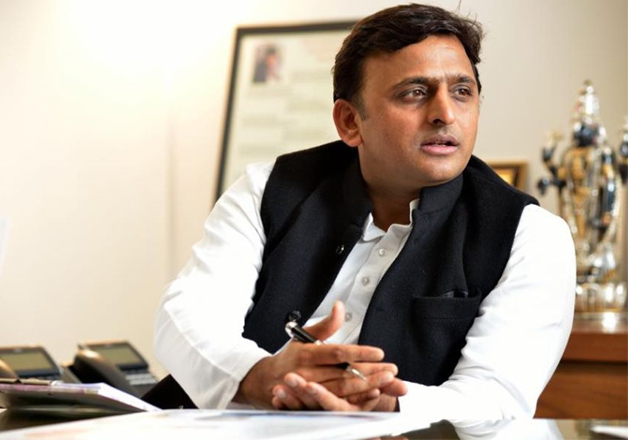 Uttar Pradesh Chief Minister Akhilesh Yadav has convened a meeting of party leaders today following the announcement of list of 325 candidates by his father and Samajwadi Party supremo Mulayam Singh Yadav.
According to reports, the legislators and office bearers who have been left out of the list of nominees are likely to attend the meeting.
In the list announced by him, Mulayam  clearly ignored the objections of Akhilesh to certain names like Gayatri Prajapati, Rampal Yadav, Sigbatullah Ansari the brother of jailed gangster Mukhtar Ansari, and Atiq Ahmed who faces over 40 criminal cases including of murder.
The list, which includes 176 sitting MLAs, has no mention of names of several pro-Akhilesh ministers and MLAs including Ram Govind Chaudhary, Pawan Pandey and Arvind Singh Gope.
Significantly, Mulayam also ruled out projecting Akhilesh  as the chief ministerial candidate for the upcoming elections saying, "The SP has no tradition of projecting anyone as its chief ministerial candidate. Some parties do it, and in the process bite the dust. In SP, the legislators elect their leader."
"The list released today does not include names of certain candidates who are sure to win. I will take it up with the SP chief and tell him that some of them have done really good work and they should be given tickets," Akhilesh told reporters in Bundelkhand on Wednesday evening.
Meanwhile, Akhilesh has sacked the Adviser to UP Housing Development Council Surabhi Shukla and her husband Sandeep Shukla, the advisor to Rajkiya Nirman Nigam who enjoyed the rank of a Minister of State. Both are understood to be close to Shivpal Yadav, and Sandeep was named SP candidate for Sultanpur seat yesterday.
The Samajwadi Party has 224 seats in the present assembly. Uttar Pradesh will go to polls early next year.