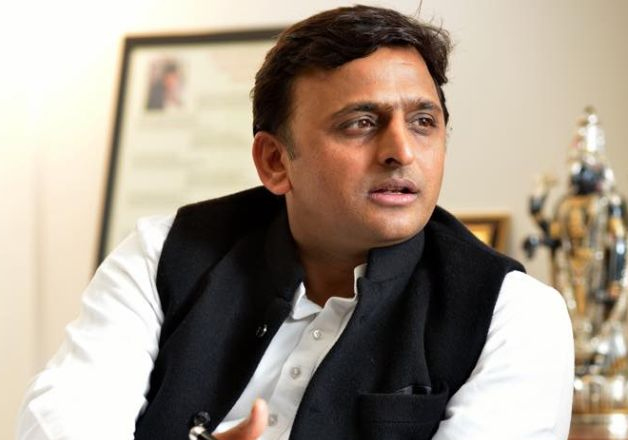 In the middle of a huge power tussle within family, Uttar Pradesh CM Chief Minister Akhilesh Yadav today rushed to Raj Bhawan to meet Governor Ram Naik.
Raj Bhawan sources said Akhilesh briefed the Governor on the prevailing political situation in the state.
Triggering speculation in political circles, Akhilesh paid a sudden visit to the Raj Bhawan when he was in the middle of a meeting with party legislators and seniors to finalise details of his proposed 'rath yatra' from November 3.
The sudden visit caught everyone by surprise, though some said an appointment had been sought in advance.
Samajwadi Party sources, however, said that the visit might have been in connection with the four vacancies in the ministry after Akhilesh sacked his uncle Shivpal Yadav, Om Prakash Singh, Narad Rai and Sayeda Shadaab Fatima in a sudden move on Sunday, plunging the party into a deeper chaos.
The development comes hours after Samajwadi Party UP unit chief Shivpal Singh Yadav expelled Akhilesh's close aide and Cabinet Minister Tej Narain Pandey alias Pawan Pandey from the party for six years.
"Pawan Pandey is being expelled from Samajwadi Party for six years on charges of indiscipline," Shivpal, who is locked in a power tussle with his nephew Akhilesh, announced at a press conference at the party headquarters here.
MLC Ashu Malik had on Monday alleged that Pandey, a confidant of Akhilesh, had slapped him at the Chief Minister's residence. 
Speaking to media here, Shivpal said that the party will not tolerate any form of indiscipline and that he has written a letter to CM Akhilesh Yadav requesting him to sack the minister.
"We have written a letter to UP CM to sack Pawan Pandey of the Ministerial position over clash with MLC Ashu Malik," Shivpal told reports here.
When specifically asked about the rift within the family, Shivpal however maintained that there was no difference in the party or the Yadav clan and that all was well. 
"We are united and for now are preparing for the silver jubilee celebrations of the party on November 5 and thereafter for the state assembly polls," he said. 
In a dramatic tit-for-tat event in ruling SP in election-bound state, Akhilesh Yadav had ousted his uncle Shivpal Yadav and three others from the government, while the party brass retaliated by sacking general secretary Ram Gopal Yadav for six years from the party. 
UP Assembly polls are due early next year. In the 2012 polls, the Samajwadi Party had won a record 224 seats in the 403-chair House.