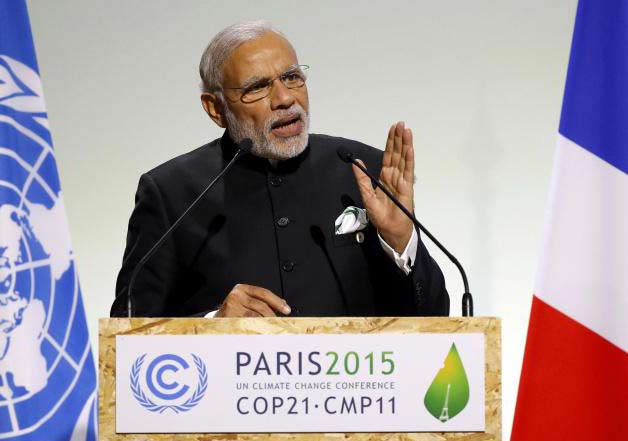 The Union Cabinet today approved ratification of Paris Agreement which will take place on October 2, Union Minister Prakash Javadekar said.  
Javadekar, who has also served as the Environment Minister and has played a key role in Paris agreement, said that with this decision 'India has become a decisive partner in ratification process of Paris Agreement'. 
Cabinet's approval comes three days after Prime Minister Narendra Modi's announcement on Sunday that India will ratify the Paris pact on Climate Change on October 2. 
The announcement by Modi for ratifying last year's Paris agreement to limit greenhouse gases next Sunday to coincide with the birth anniversary of Mahatma Gandhi was made in his address to BJP's National Council meet in Kozhikode.  
The decision is expected to give momentum to implementation of measures at international level to control global warming. 
While Western countries, including the US, had been pushing for an early ratification of the pact--possibly by the end of this year, India had been seeking more time to complete its national processes as it fears that any hasty decision may impact its developmental projects.
"There is one work left in the CoP21 (Conference of Parties). Ratification is yet to be done and India too is yet to do it. Today on the birth anniversary of Deen Dayal Upadhyay, I announce that India will ratify the decisions on October 2, the birth anniversary of mahatma Gandhi," Modi had said while announcing the government's decision. 
Modi said he had chosen the date as Mahatma Gandhi's life was an example of minimum carbon footprint. 
Modi's announcement was welcomed by the US. 
"We welcome the news India will join the #ParisAgreement October 2," US Ambassador to India Richard Verma said. 
"Congrats Prime Minister @narendramodi for your leadership to #ActOnClimate," Verma tweeted. 
External Affairs Minister Sushma Swaraj also reiterated this during her address in United Nations General Assembly on September 26.
During the Paris climate meet in December last, more than 190 nations had agreed on setting ambitious goals for capping global warming and funnelling trillions of dollars to poor countries facing climate catastrophe. 
The pact will come into force after it is ratified by at least 55 countries that account for 55 per cent of global greenhouse gas emissions.
China and the US - responsible for around 40 per cent of the world's carbon emissions - on Saturday jointly ratified the Paris climate change deal that aims to significantly reduce global emissions, giving hopes that the landmark accord may come into effect by the end of this year.