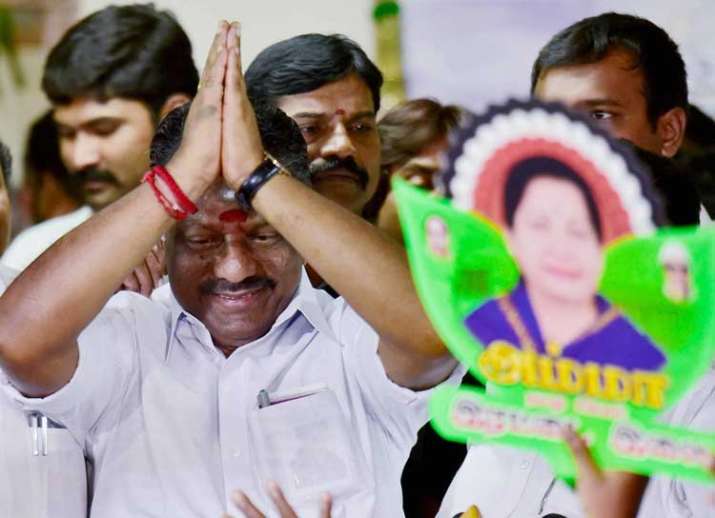 As he battles against AIADMK Genetal Secretary VK Sasikala for the Tamil Nadu Cheif Minister's post, O Panneerselvam camp today got a boost with three more MPs extending support to him. 
The party's Lok Sabha MPs Jaisingh Thiyagaraj Natterjee (Tuticorin), Senguttuvan (Vellore) and R P Marutharaja (Perambalur) extended their support to Pannerselvam.
The MPs called on Panneerselvam at his Greenways Road residence this morning and extended solidarity to him. 
Four AIADMK Lok Sabha MPS -- P R Sundaram, K Ashok Kumar, V Sathyabama and Vanaroja -- had already switched over to the acting Chief Minister's camp, pledging support to him. Rajya Sabha MP V Maitreyan is also in the Panneerselvam camp. 
Also Read: Tamil Nadu crisis: SC verdict in Sasikala DA case unlikely on Monday; support grows for Panneerselvam
AIADMK has 37 MPs in Lok Sabha and 13 in Rajya Sabha.
Panneerselvam at present also enjoys the support of seven MLAs, including him. In the 235-member Tamil Nadu Assembly, AIADMK has 135 MLAs. 
AIADMK Fisheries wing Joint Secretary K A Jeyapaul, a Minister in the 2011-16 Jayalalithaa cabinet and former Erode Mayor Mallika Paramasivan also joined the Panneerselvam camp today. 
On February 5, AIADMK General Secretary VK Sasikala was elected as the party's Legislature Leader, a step towards her elevation as Chief Minister of Tamil Nadu. 
However, two days later, Panneerselvam had raised a revolt against her, alleging he was forced to step down for her. 
Sasikala, however, staked claimed to form the government on Thursday when she met Governor C Vidyasagar Rao. 
The Governor has delayed the swearing-in of Sasikala as the Supreme Court is expected to pronounce its verdict in the disproportionate assets case, involving Sasikala as an accused, upcoming week. 
According to a report by the Times of India, the Supreme Court cause list - which catalogues the court's business for the day — does not mention the case for Monday. 
The top court reserved the verdict last year and indicated on February 6 that the order could be delivered in a week.
The court is hearing the Karnataka government's plea challenging the high court acquittal of 61-year-old Sasikala and three others in the Rs 63-crore disproportionate assets case.
Late Tamil Nadu chief minister J Jayalaithaa was the main accused in the case, but after her death on December 5 last year, the case against her stands abated.
Sasikala, who seems to be getting impatient with each passing day as AIADMK leaders keep switching over to Panneerselvam camp, has alleged that the delay in her being sworn-in as Chief Minister of Tamil Nadu is mainly to break the party.