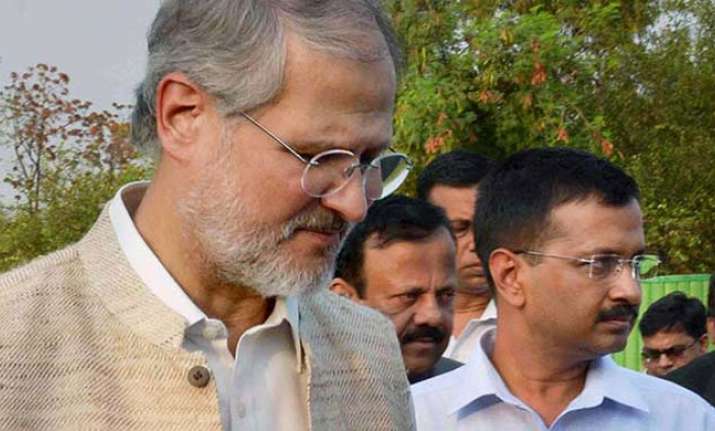 Miffed over Delhi Lieutenant Governor's refusal to accept Kejriwal government's advice to dissolve the Shunglu Committee, which is examining 400 files on decisions taken by the Delhi government, the Aam Aadmi Party (AAP) today asked  Najeeb Jung to stop behaving like a "BJP spokesperson".
"Lieutenant Governor Najeeb Jung should stop behaving like a political spokesperson of his latest adopted outfit—the BJP. He is hiding behind the Narendra Modi government to cover-up his unconstitutional and illegal actions," Senior AAP leader Ashutosh said.
Ashutosh questioned the legality under which the Shunglu Committee is examining the files and accused Najeeb Jung of trying to cow down Kejriwal government by threatening to use CBI against AAP leaders.
"We have made it clear time and again that why can't the L-G wait until the Supreme Court gives its decision. The AAP and the Delhi government cannot be cowed down by the threat of using the CBI for political vendetta against us," Ashutosh said.

  

The Kejriwal government had yesterday advised Jung to dissolve the Shunglu Committee but the Delhi L-G turned down the request and gave the panel a six-week extension.  
Jung had formed the committee chaired by Shunglu on August 30 with  ex-chief election commissioner N Gopalaswami and ex-chief vigilance commissioner Pradeep Kumar as its members.
In a three-page press statement, Jung wondered why the AAP government is "afraid" of the truth coming out if everything, as claimed by its ministers, is as per rules.  
 Reacting to Jung's statement, Ashutosh said, "The AAP government is not afraid of Jung's machinery and falsehoods being spread by him."   
The senior AAP leader also questioned whether Jung can cite a single rule under which Delhi government officers are being verbally summoned before the unconstitutional and illegal committee.  
"Why is the Delhi L-G unable to state under which provision of the Constitution, law or rule has he formed a three-member committee to examine the Delhi government files?" he asked.
"On whose illegal instructions did Jung form this committee, about which he is fumbling for words to explain under which law/rule this committee has been formed? Can he deny that he is violating his oath of office and secrecy by showing official files to outsider individuals?" the AAP leader said.