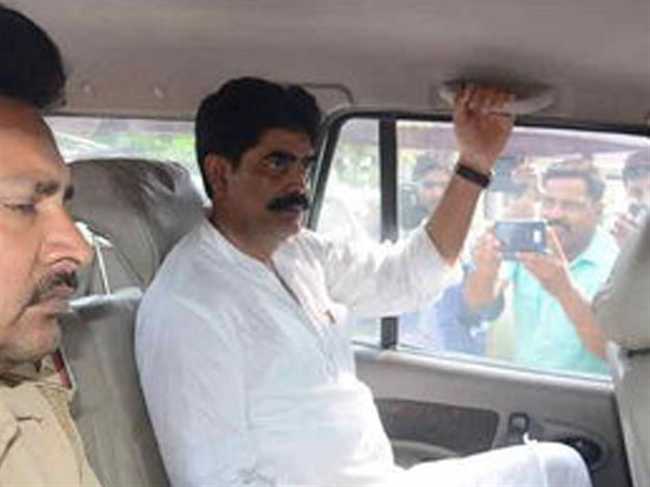 The Supreme Court today adjourned the hearing of petitions seeking cancellation of former RJD MP Mohammad Shahabuddin's bail to Wednesday.
Lawyer Prashant Bhushan, representing victim's father, told the Supreme Court that there were 45 cases against Shahabuddin, out of which 9 were murder cases, while he had been convicted in only 10 these cases. 
The petitions filed by Bihar government and an old couple from Siwan, whose three sons were allegedly killed on behest of former RJD MP Mohammad Shahabuddin, sought cancellation of later's bail in a murder case.
Notedly, the victims' mother too filed a petition seeking cancellation of Shahabuddin's bail.Her plea is likely to come up for hearing before the apex court today.
In her plea, Kalawati Devi has claimed that the high court had "completely lost sight" of the fact that Shahabuddin was a "dreaded criminal, who has absolutely no regard for the law, and granting bail to him even though he has been convicted for heinous offences like murder, abduction etc and is still facing trial in many of the cases lodged against him would be travesty of justice".
The top court had on September 19 asked Shahabuddin to respond to two petitions --- one each filed by Bihar government and the victims' father --- challenging a Patna High Court order granting him bail.
A bench of Justice PC Ghose and Justice AK Roy had on September 19 declined to grant an interim stay on the operation of the HC order and said it will give Shahabuddin a hearing before issuing directions. "Let him also respond to your stay application," the bench had said, fixing September 26 to hear the matter.
There is also another petition filed by the wife of a journalist allegedly killed at the behest of Shahabuddin for transferring the case outside Bihar. But this case is not listed for Monday.
While a sessions court in Siwan had convicted Shahabuddin for the offence of murder and kidnapping for ransom in the twin murder case and had awarded life imprisonment to him, the trial in the murder case of the eye witness son is going on.
Shahabuddin, who had been in jail for more than 10 years in connection with multiple cases, was granted bail by the Patna High Court on September 7 in connection with the murder of a man who witnessed the killing of two brothers in Siwan.
Shahabuddin's release from jail evoked widespread criticism of the grand alliance in the state with the opposition accusing the government of paving way for his release by not opposing the bail strongly in the court.