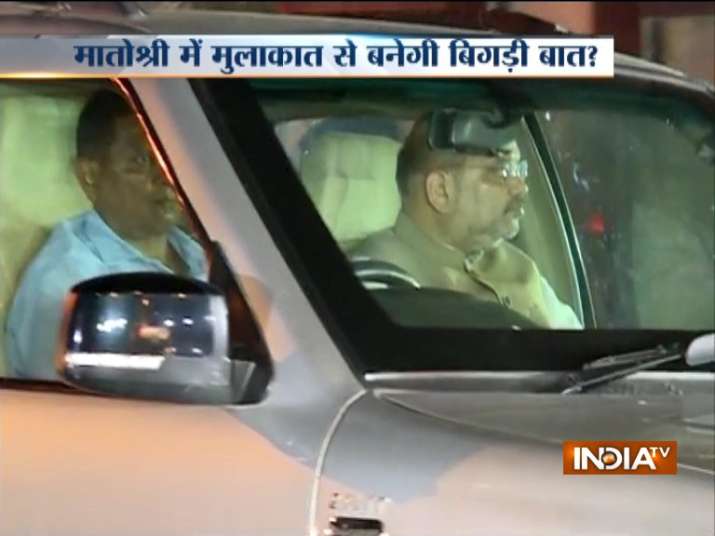 Amid the ongoing bickering between the partners of the coalition government in Maharashtra, BJP chief Amit Shah on Wednesday met Shiv Sena supremo Uddhav Thackeray at the latter's residence Matoshree in Mumbai.
Amit Shah, accompanied by Maharashtra Chief Minister Devendra Fadnavis, arrived at Matoshreee to meet Uddhav.
According to the BJP, the meeting was in connection with its Sampark for Samarthan (contact for support) campaign being led by the BJP president in the run up to next year's Lok Sabha polls.  
The meeting assumes significance as the BJP and the Shiv Sena have been bickering despite being allies at the central and state level.
The two allies contested the May 28 bypolls to Palghar Lok Sabha constituency of Maharashtra separately and engaged in a bitter campaign against each other.  
During the poll campaign, the Shiv Sena repeatedly attacked Prime Minister Narendra Modi
After facing defeat in the Palghar bypolls at the hands of the BJP, the Shiv Sena labelled the ally party as its "biggest political enemy".
Even on Tuesday, the Sena questioned the "need" for the meeting between Shah and Thackeray "after a gap of four years" (since the Modi government was formed).  The Shiv Sena has also already declared that it will go alone in the 2019 general elections.
The two parties were allies for over two-and-half decades before they severed ties ahead of the 2014 Maharashtra Assembly polls, only to join hands later later to form government under the leadership of Fadnavis in the state.  
In today's editorial in party mouthpiece "Saamna", Shiv Sena questioned the BJP's outreach programme after suffering defeat in bypolls in various states.
The editorial maintained that the Sena will fight all the upcoming elections alone.
"The prime minister is touring the world and BJP chief Amit Shah is going around the country as part of their 'sampark' programme. Shah will be meeting NDA allies. However, what exactly will he do? Why is he meeting at this juncture when the BJP has suffered defeat in bypolls," the Sena asked in an editorial.
Watch: BJP chief Amit Shah reaches Matoshree to meet Shiv Sena chief Uddav Thackeray