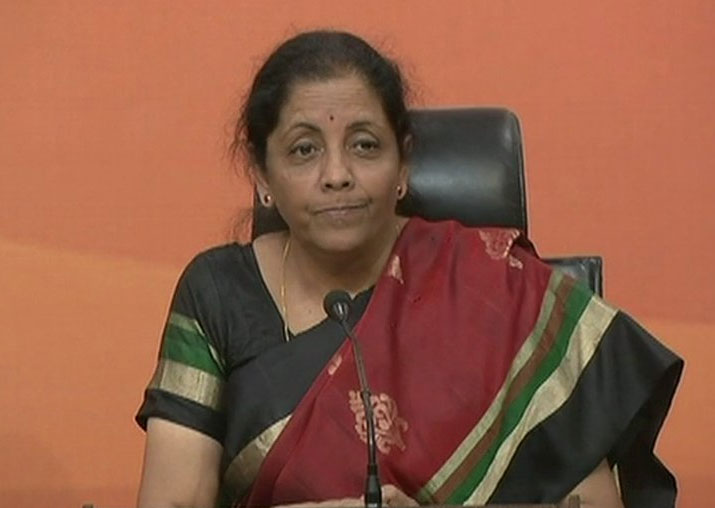 The BJP today alleged that the multi-crore PNB scam involving billionaire jewellery designer Nirav Modi took place during the UPA rule and accused the Congress of spreading lies.
The BJP fielded Defence Minister Nirmala Sitharaman to counter the Congress charge that the scam took place in 2017 under the Modi government when the letters of understanding were signed by the Punjab National Bank in favour of Nirav Modi. 
She said that it was Congress leader Rahul Gandhi who attended a promotional event hosted by Nirav Modi. 
"On 13 Sept 2013, Rahul Gandhi attends a promotion event of this jewellery group," Sitharaman said, adding that Nirav Modi may have been able to run away from the country, but the government is taking action against him. 
"All the inheritance, legacy and property in this case belong to the Congress party. They are the beneficiaries and promoters. It is shocking that Congress party is questioning us when we have acted against these misdeeds. In this mega banking scam, there are enough and more facts in our hands. With these fact, we and media wants to ask questions to the Congress party and better educate the people of India regarding the scam," she added.
"We are not conspiring to help scamsters flee the country, the BJP government is catching them instead," she told reporters. 
She also cited the example of a government director of Allahabad Bank, who in 2013 had raised objections to the financial restructuring of Gitanjali Gems, saying he was asked to resign and his dissent was not even recorded. 
The BJP leader further said that the "property of Adwait Holdings Pvt Ltd, whose directors are wife and son of Congress leader Abhishek Manu Singhvi, Anita Singhvi and Avishkar Singhvi, is rented to Nirav Modi's jewellery company in Mumbai". 
"Both companies have also done loan transactions. Fire star diamond international pvt ltd. is one of the companies of Nirav Modi. They have acquired it from Advait Holdings and one of the shareholders of it is Anita Singhvi since 2002," Sitharaman said.
Abhishek Manu Singhvi refutes Sitharaman's allegation
Meanwhile, Singhvi dismissed Sitharaman's and threatened her with a civil and criminal defamation lawsuit. He termed the BJP leader's allegation as "ludicrous and ridiculous".
The Congress leader said that neither he, nor his family members have anything whatsoever to do with Gitanjali or Nirav Modi's companies.
"Nirav Modi's company was a tenant of a Kamla Mills property owned by Adwait Holdings in which my wife and sons are directors. Adwait Holdings owns a commercial property at Parel, as it does elsewhere, which was rented by Firestone many years ago. Neither Adwait, nor my family has any interest with Nirav Modi or Firestone. Last August Firestone gave notice to quit tenancy and vacated Kamla Mills's property in December 2017," he clarified.
Central probe agencies CBI and ED yesterday continued their crackdown in the Rs 11,400 crore bank fraud case involving Nirav Modi and family, registering a fresh case against his maternal uncle Mehul Choksi,
The CBI has alleged that the new FIR pertains to 143 LOUs worth over Rs 4,886 crore fraudulently issued to three companies of Choksi -- Gitanjali Gems, Nakshatra and Gili -- during the period 2017-18, officials said. 
The agency had earlier registered a separate case involving Rs 280-crore fraud, which has now been expanded to cover LoUs worth Rs 6,498 crore issued to accused companies of Nirav Modi and Choksi. An LoU is a letter of comfort issued by one bank to branches of other banks, based on which foreign branches offer credit to buyers.